Man of the West
(1958)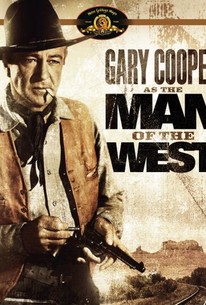 Movie Info
In this western, Link Jones travels to Fort Worth to hire a new schoolteacher there. On the rails, he crosses paths with Sam Beasley, a grifter who plans to rob Jones blind. Instead, Jones and Beasley fall victim to a band of thieves. Left destitute, they set out for revenge.
Critic Reviews for Man of the West
Audience Reviews for Man of the West
½
Great looking Anthony Mann western that Goddard said was one of his favorites. Maybe back then with 50 westerns coming out every year it was original,but I wasn't very impressed. Cobb and Cooper are really good in this, but everyone else is average. It's about a ex-outlaw,(cooper) a grifter,and a singer get abandoned by a train after a robbery. They run into Cooper's old gang and force him into a bank job. The movie does look great and at times it is very dark. It has some great scenes,but also has a lot of typical run of the mill scenes too. I just didn't get into the movie or the characters as much as I have with other Mann westerns.
cody franklin
Super Reviewer
Man of the West Quotes
There are no approved quotes yet for this movie.