Man of the Year
(2006)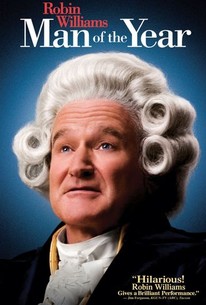 TOMATOMETER
AUDIENCE SCORE
Critic Consensus: Weakened by second-half attempts at thriller and romance, this presidential comedy also fails to hit any sharp political notes, resulting in a confused and unsatisfying mess.
Movie Info
To make waves on the campaign trail, a late-night political talkshow host runs for president--only to have his prank backfire when he actually wins the election.
News & Interviews for Man of the Year
Critic Reviews for Man of the Year
Audience Reviews for Man of the Year
Friend and fellow Flixster reviewer, Scott Wilson, asserts that Man of the Year "couldn't decide what kind of movie it was going to be," and I agree, in so much as it does shift tones a lot. It goes from irreverent comedy to political satire to whimsical romance to schizoparanoid thriller, but I find the shifts suspenseful and entertaining. The usually crass and bombastic Robin Williams is so genteel and streamlined as the television news comedian turned presidential candidate. He's even a bit of a stud when Eleanor Green enters the picture. He and Laura Linney seem to have good chemistry, perhaps by virtue of Linney's not-necessarily-loving but definitely-tension-filled gaze. Her drug-induced breakdown is quite alarming, going from 0 to 60 and back with her different intonations of "I've got it. I've got it! I'VE GOT IT! ... I've got it."
Alice Shen
Super Reviewer
½
I think this film is based on Al Franken's run for senator, or a hypotehtical scenario where Jon Stewart decides that he's had enough of pointing out bungling and decides to do a little himself. But imagine that character is played by Robin Williams and he actually wins. It's hard to tell if this film was trying to be a comedy driven by Williams' persona and performance or whether it was supposed to be a drama about corporate election rigging and fraud. It was kind of both and a lot of neither, at times. It's pretty good, but I think it might have been better if it had come down on one side or the other. And if it had been a drama, it should have been devoid of Williams.
Emily Armstrong
Super Reviewer
½
I believe they made to make this something of a cross between a thriller and a comedy, but it's just lacking, and abysmally strange.
Spencer S.
Super Reviewer