Man on Fire
(2004)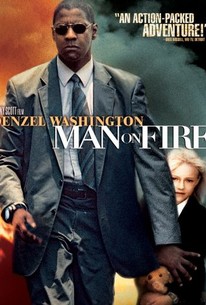 Movie Info
A wave of kidnappings has swept through Mexico, feeding a growing sense of panic among its wealthier citizens, especially parents. In one six-day period, there were twenty-four abductions, leading many to hire bodyguards for their children. Into this world enters John Creasy, a burned-out ex-CIA operative/assassin, who has given up on life. Creasy's friend Rayburn brings him to Mexico City to be a bodyguard to nine-year-old Pita Ramos, daughter of industrialist Samuel Ramos and his wife Lisa. Creasy is not interested in being a bodyguard, especially to a youngster, but for lack of something better to do, he accepts the assignment. Creasy barely tolerates the precocious child and her pestering questions about him and his life. But slowly, she chips away at his seemingly impenetrable exterior, his defenses drop, and he opens up to her. Creasy's new-found purpose in life is shattered when Pita is kidnapped. Despite being mortally wounded during the kidnapping, he vows to kill anyone involved in or profiting from the kidnapping. And no one can stop him.
Critic Reviews for Man on Fire
Audience Reviews for Man on Fire
Cool movie where Denzel protects a litte girl at all costs.....what isn't awesome about that?
Eric Alvarez
Super Reviewer
½
Tony Scott's Man on Fire gives meaning to the word assassin.
The plot doesn't necessarily blow anything out of the park, but the way the story itself unfolds is what gives this film its entertainment value. Despite being a tad lengthy, as it approaches 2 and a half hours, the first hour of character development really sets up the the second half quite nicely.
It's no secret that time does pass until the action shows up, but it is worth the wait. The violence is served with a good helping of blood and brutality, while also not going overboard as to be on the gruesome side; however, Tony Scott's visual effects tends to detract from, not just the action scenes, but the rest of the film as well.
Denzel Washington is a solid choice as former agent Creasy. Dakota Fanning also lives up to expectations. The chemistry between the two is on the money and this is what really makes this picture work.
Man on Fire does have a few disappointments, but all in all, it is one recommendable film.
½
Tony Scott takes a typical story of redemption and turns it into one of his typical, albeit entertaining stylish frenetic action romps. John Creasy is a burnt out, depressed, alcoholic ex-CIA agent turned mercenary who gets a new lease on life after he agrees to become the bodyguard to a precocious little white girl named Pita living in Mexico City with her affluent "new money" parents. Slowly but surely, Pita starts to rehumanize Creasy and bring him out of his slump. He goes over the edge and returns to his violent past life however, when she gets kidnapped and held for ransom. And, as you might expect, there's a twist (like always) and the film is heavy doses of both heart, mayhem, and splattered wall to wall with both blood and religious iconography/symbolism. Basically this is a lot like Taxi Driver in many repects, though not nearly as competantly made, memorable, or brilliant. It's solid, sure, but Scott's stylistic tendencies are a bit overbearing and distracting here. I know he included them as a way of trying to set this routine story apart from other films of this ilk, but it doesn't work out for him nearly as much as it should. The dialogue is clunky, the film isn't quite as balls to the wall in some places (as it should have been), and, even though I am a fan of heavy religious symbolism, it feels way too forced here. Also, the subtext involving corruption in Mexico is a little trite and really glossed over instead of being insightful and full of depth. I do like htis movie though. I mean, it's Denzel Washington kicking ass and taking names...what's not to like? Walken put in an okay supporting performance where he doesn't paly a villain this time, and yeah, this is the breakout film for little Dakota Fanning who does a decent job with the amount of screentime she's given. All in all, this is passable, but overwhelmingly underwhelming in it's lack of focus and over the top with it favoring of style over substance. B-.
Chris Weber
Super Reviewer
Man on Fire Quotes
| | |
| --- | --- |
| Fuentes: | You know, I-I'm a professional. |
| John Creasy: | That's what everybody keeps saying. "I'm just a professional". Everybody keeps saying that to me. "I'm just a professional", "I'm just a professional". I'm getting sick and tired of hearing that. |
| John Creasy: | That's what everybody keeps saying. I'm just a professional. Everybody keeps saying that to me. I'm just a professional, I'm just a professional. I'm getting sick and tired of hearing that. |
| | |
| --- | --- |
| John Creasy: | Say goodbye to her! |
| | |
| --- | --- |
| John Creasy: | Who's the boss? Who's the boss? WHO'S THE BOSS?! |
| John Creasy: | Who's the boss? Who's the boss? Who's the boss! |
| | |
| --- | --- |
| John Creasy: | Revenge is a meal best served cold. |