The Man on the Train (L'homme du train)
(2003)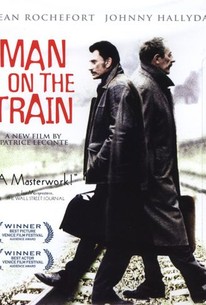 The Man on the Train (L'homme du train) Photos
Movie Info
Two men from two different walks of life develop an unexpected friendship in French director Patrice Leconte's 2002 comedy-drama The Man on the Train. Weary from his trip and in anticipation of the heist he's about to perform, Milan (French rock star Johnny Hallyday) steps off the train after arriving in the small town where he's to meet his co-conspirators and heads straight to the town pharmacy. After accidentally buying the wrong product, Milan makes the acquaintance of retired teacher Manesquier (Jean Rochefort), who offers to help the traveler and then promptly begins talking ad nauseum. Milan, after paying partial attention to the old man's ramblings, excuses himself to find accommodations -- only to run into Manesquier once more after learning that the hotel has closed for the night. As the two men talk, they develop a respect for one another, as well as a secret longing to live the type of lifestyle the other man lives based on the desire to escape their own. The Man on the Train gained positive notice after being selected for competition in the 2002 Venice Film Festival, as well as for the 2002 Toronto Film Festival.
Critic Reviews for The Man on the Train (L'homme du train)
Audience Reviews for The Man on the Train (L'homme du train)
Nice very nice. A very interesting switcheroo with some genuinely good comedic elements.
John Ballantine
Super Reviewer
½
A very delicate film, but it works.
Bob Stinson
Super Reviewer
[center][font=Arial][color=darkred][img]http://img126.imageshack.us/img126/4116/photo016pn.jpg[/img][/color][/font][/center] [font=Arial][color=darkred][/color][/font] [font=Arial][color=darkred]A dark stranger gets off a train in France. He has piercing blue eyes and a weathered face with a machine-like expression. This man is Milan (Johnny Hallyday) and he's stopping by this small French town for a new job. Oh, Milan's business is robbing banks. In this small village he befriends a garrulous retired poetry teacher, Monsieur Manesquie (Jean Rochefort). The two men spend their time wishing they had the life of the other. Milan openly seeks a comfortable life surrounded by books. Monsieur Manesquie is a huge fan of Clint Eastwood movies and longs for some action in his life. He secretly dreams of one day robbing a bank just for the fun of it.[/color][/font] [font=Arial][color=darkred]So, an interesting start for a film, right? Sure. But this IS the movie. 'The Man on the Train' is a middling character experiment. The two men rub off each other, with Milan teaching a young boy the wonders of poetry, and Monsieur Manesquie learning how to properly fire a gun. The scenes are nice and both actors are splendid (especially French rocker Hallyday) but the film is one long muddled and meandering trip until our inevitable climax. The ending feels needlessly open-ended and a tad clumsy. There's also a subplot featuring a young mistress for Monsieur Manesquie that sticks out like a sore thumb.[/color][/font] [font=Arial][color=darkred]'The Man on the Train' is a well shot and well acted film but it only feels like the first half of a movie. I'm sure plenty of people out there will appreciate the character nuances and small moments, but this is a film completely driven by small moments that never add up to anything larger. Maybe 'The Man on the Train' just isn't for me. Or maybe I need to just wait for the second half, if it ever gets made.[/color][/font] [font=Arial][color=darkred]Nate's Grade: C+[/color][/font]
Nate Zoebl
Super Reviewer
The Man on the Train (L'homme du train) Quotes
| | |
| --- | --- |
| Milan: | We get more precious as the years pass, you see. |
| | |
| --- | --- |
| Manesquier: | Many people talk a lot of rubbish. I think we agree on that. As soon as they write it down, it becomes gospel truth. |
| | |
| --- | --- |
| Manesquier: | I have always wanted to be a silent onlooker. |