The Man Who Cried
(2000)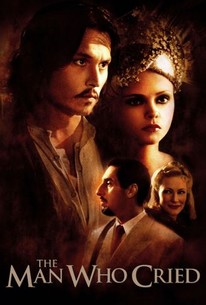 Movie Info
In this historical drama with music, a gifted singer (Oleg Yankovsky) from a Jewish village in Russia travels to the United States in 1927, leaving behind his young daughter Fegele (Claudia Lander-Duke). Father has promised his family that he'll send for Fegele as soon as he can, but authorities make life hard for the Jewish population, and Fegele is forced to flee with relatives to England. Fegele is adopted by a British family, which renames her Suzie and raises her with little acknowledgement of her ethnic heritage. As she grows to adulthood, Suzie (Christina Ricci) becomes a gifted vocalist and gets a job singing in a nighclub revue in Paris. Before she leaves England, her adopted family presents Suzie with a picture of her father, still believed to be living in America, and she decides she will go to the United States some day and find him. In Paris, Suzie makes friends with Lola (Cate Blanchett), a Russian showgirl in the market for a rich husband. Lola becomes involved with opera star Dante Dominio (John Turturro), and soon both Lola and Suzie are extras in Dominio's company, managed by Felix Perlman (Harry Dean Stanton). As Lola takes up with Dante, Suzie falls for Cesar (Johnny Depp), a poor but handsome gypsy horse trainer. Suzie soon becomes involved with the handsome Cesar, but their happiness proves to be short-lived when the Nazi war machine begins to roll through France. The Man Who Cried was written and directed by Sally Potter, who previously won acclaim for another unusual historical piece, Orlando. ~ Mark Deming, Rovi
Critic Reviews for The Man Who Cried
Audience Reviews for The Man Who Cried
Very linear and forgettable, but also quite harmless and watchable.
Marcus Woolcott
Super Reviewer
This is a fairly basic Nazis = bad film. There's not much in the way of political acumen, and the characters and their storylines never escape from basic types. The acting is good until the characters begin the worst lip synching in film history. Potter's dialogue is fairly stilted, but the art direction and cinematography is good. As a whole, the film needed to escape cliche and take greater advantage of its cast, all of whom are capable of strong, nuanced performances.
Jim Hunter
Super Reviewer
½
Really good movie. Depp and Ricci have a really intsense love scene. Depp tends to look at her longingly for a good 2/3s of the film. But I'll forgive..he's lovely. And Blanchett does a really flighty portrayal of a early 20th century gold-digger. All in all..great story of perserverance with a stellar cast..but honestly...I don't understand the title.
Hogans Hero
Super Reviewer
The Man Who Cried Quotes
There are no approved quotes yet for this movie.