The Man Who Loved Cat Dancing
(1973)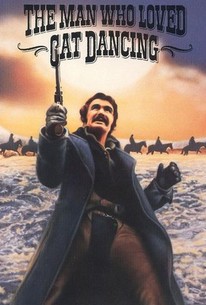 AUDIENCE SCORE
Critic Consensus: No consensus yet.
The Man Who Loved Cat Dancing Photos
Movie Info
This romantic western drama, based on the best-selling novel by Marilyn Durham, stars Burt Reynolds as Jay Grobart, an outlaw married to an Indian woman named Cat Dancing. When Cat is raped and murdered, a distraught Grobart kills the man responsible for the crime; he soon pulls a robbery with the help of his friends Dawes (Jack Warden) and Billy (Bo Hopkins), and is now on the run from the law. While in transit, Grobart and his partners run across Catherine (Sarah Miles), a woman running away from her abusive husband Crocker (George Hamilton). Catherine is abducted by Dawes and Billy, but Grobart protects her from their violence and threats of rape. As Grobart and Catherine get to know each other, they find themselves falling in love, and despite his lawless past, she admires him for avenging the death of the woman he loved. Grobart, Catherine, and the men travel to the Indian village where Grobart lived with Cat Dancing and their son; however, Lapchance (Lee J. Cobb), a bounty hunter hired by Crocker, is on their trail to bring Catherine back to her husband. The Man Who Loved Cat Dancing was one of Burt Reynolds' first major starring roles after Deliverance elevated him to full-fledged film stardom following years in television and low-budget pictures.
Critic Reviews for The Man Who Loved Cat Dancing
There are no critic reviews yet for The Man Who Loved Cat Dancing. Keep checking Rotten Tomatoes for updates!
Audience Reviews for The Man Who Loved Cat Dancing
"Well, if she doesn't look as fresh as a daisy next to an outhouse"! "The man who loved Cat Dancing" is different from most westerns in that it is focused on relationships. This may not be surprising, in the light of the fact that the novel it is based on was written by a woman. Burt Reynolds plays a train robber whose gang is disrupted by the intrusion of a woman, the aristocratic Catherine née Cat Crocker (British actress Sarah Miles) who is fleeing an unhappy marriage. Catherine's husband hires on a tracker (Lee J. Cobb) to find his wife who he believes is kidnapped. You never get the impression that Crocker (George Hamilton) isn't a decent enough guy in his own right only that his wife doesn't love him enough to want to stay married. With Jay Grobart's gang, Catherine gets more than she's bargained for, having to fend off the lecherous likes of Bo Hopkins' Billy, and the brutish Jack Warden's Dawes and later some renegade Indians. Meanwhile Grobard himself is a driven man on the trail to retrieve his two children from a Shoshone tribe, left behind after he killed the man who raped his wife, the 'Cat Dancing' character of the film's title. We also follow Catherine's emotional changes. She is at first simply running away from a husband she does not love. She later has sex with a man who has protected her, and is then raped by a sociopath. The scenery in this movie was outstanding with excellent performances by Jack Warren and Lee J. Cobb. Worth checking out...wait a minute...just two people on my friend's list have seen this one???
½
This is my first-time of Burt Reynold's western classic. A strong cast with excellent performances by Jack Warren and Lee J. Cobb, it is the only Reynolds movie I like. he scenery is outstanding and all the characters fit nicely in the roles and are believable. The plot although not unique has its moments as the dynamics of the "gang" are played out. Reynolds has never been better and clearly missed his calling as a western hero, he plays the strong silent type much better than road he went down in his career.
Dean McKenna
Super Reviewer
The Man Who Loved Cat Dancing Quotes
There are no approved quotes yet for this movie.