The Man Who Wasn't There
(2001)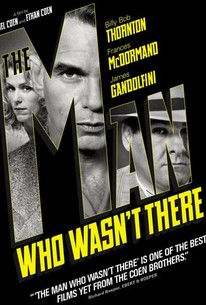 The Man Who Wasn't There Videos
The Man Who Wasn't There Photos
Movie Info
In the summer of 1949, a tale of passion, crime and punishment... Ed Crane is a barber in a small northern California town. Ed is dissatisfied with his life, but his wife Doris' infidelity presents Ed with an opportunity for blackmail that he thinks will help him to change it. However, Ed's scheme unravels and lays bare even darker secrets before leading to murder...
News & Interviews for The Man Who Wasn't There
Critic Reviews for The Man Who Wasn't There
Audience Reviews for The Man Who Wasn't There
One of the best commentaries I've seen on the murky condition of what can be deemed as modern man, Thornton (a revelation) plays a guy who is so removed from society, from even himself, that he is, in effect, only a spectator in his very own life. (But what's the point of that? What does that accomplish?) Everyone does a bang-up job, and this is eye opening filmmaking at it's best. Perhaps the best by the Coen Bros.
Kevin M. Williams
Super Reviewer
The Coens capture the look and feel of not only film noir, but that era (late 1940s) as a whole, perfectly with this film. Billy Bob Thornton is great as the laconic, chain-smoking barber Ed Crane, who doesn't have a whole lot to say, and doesn't really do much either. To break out of his achingly dull life Ed decides to get involved with a businessman trying to start up a dry cleaning business. To get the money for financing, Ed blackmails his wife's boss who is having an affair with her. Of course, since this is both a noir and a Coen Brothers film, not all goes according to plan, and nothing is really quite as it seems. This isn't the best film from the Coens, but it's still really good. It's by far their most serious work, but even then, there's still a shred of their trademark dry, dark humor and some really odd characters and weird things going on, mostly a motif involving flying saucers. Heck, even Ed himself is very much an alien with how he really doesn't seem to fit into the world. The most striking thing about this film is definitely the look. Filmed in color, but printed in black and white, this is immediately their most strikingly gorgeous work from a visual standpoint. Unlike some modern films done in black and white, this actually does look and feel like a legit 40s film. It's an impressive job that was done by the production designer, costume designer, and the venerable director of photography Roger Deakins. I could stare at this film all day and never tire of the great images it has to offer. Give this one a shot. It's slow, odd, and deliberate, but a real underrated gem worth looking at. The performances are great, the music is wonderful, and it's just a great love letter to classic noir. Also, the commentary track is amazingly entertaining and funny in its own right.
Chris Weber
Super Reviewer
½
A beautiful minor key film. The inclusion of some of Beethoven's most beautiful sonatas into this noir really works. Thornton and McDormand are fantastic plus a whole host of supporting roles that are hilarious.
Graham Jones
Super Reviewer
The Man Who Wasn't There Quotes
| | |
| --- | --- |
| Ed: | Life has dealt me some bum cards. Or maybe I just haven't played 'em right, I don't know. |
| | |
| --- | --- |
| Freddy Riedenschneider: | I litigate, I don't capitulate. |
| | |
| --- | --- |
| Freddy Riedenschneider: | The more you look , the less you see. |
| Freddy Riedenschneider: | The more you look, the less you see. |
| | |
| --- | --- |
| Carcanogues: | Some day I think she will make very good typist. Ta, ta, ta, ta, ta, ta, ta...voila! |
| Carcanogues: | Some day I think she will make very good typist. |