The Man with a Cloak
(1952)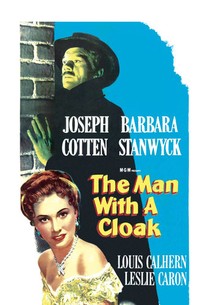 AUDIENCE SCORE
Critic Consensus: No consensus yet.
The Man with a Cloak Photos
Movie Info
In this mystery, set in 19th-century New York, one of Napoleon's former marshals is dying. When a Frenchwoman arrives to force the man to change his will to assist the struggling French Republic, the dying man's conniving housekeeper and butler plot her demise in order to get the money for themselves.
Critic Reviews for The Man with a Cloak
All Critics (1) | Fresh (1) | Rotten (0)
An unconvincing pretentious melodrama that is filled with literary allusions and veers between being a suspense thriller and a character study.
Audience Reviews for The Man with a Cloak
½
Decent little mystery with Barbara giving her usual competent performance, she shouldn't have sung though. Otherwise an enjoyable view.
½
pretty disappointing considering it stars two of my favorite actors, stanwyck and cotten. it's a victorian mystery full of stilted dialogue and without much suspense. the 'mysterious stranger' isn't very mysterious or very strange. what happened here? put it down to a poor script
Stella Dallas
Super Reviewer
Purple prose. One of my all-time favorite English profs, when we would discuss elements of style for a particular author, would absolutely glow when he'd read us a passage where the writing suddenly erupted into a kind of decorous effulgent glob. He'd always say something like: If that isn't a purple patch, I don't know what is. And always with a huge smile.
I was younger and less, well, aware in those days. I assumed that he would take great joy in pointing these out because they were flaws. But now, in my old age, I realize that my professor was pointing these out and beaming about them because he actually kind of loved them: Purple prose = nifty.
Some of you know how much I love Barbara Stanwyck, and Joseph Cotten is on my favorite actor list. If you want to see some almost non-stop purple patch examples, just listen to them talk. The dialog is barely of this real world. It is indeed stylized -- in some cases so much so that it could become quite stilted in the mouths of lesser actors. But this purple dialog is a beautiful thing to behold. They do it so well.
Yes, this is the kind of purple writing that my prof really loved. It's not the grossly pulsating bloody, puss pimple that confronts you in the mirror on the morning of the big prom. No, it is the morning bud, opening its petals in perfumed glory to greet a radiant, warming sun that crests the horizon at dawn.
Lanning : )
Super Reviewer
The Man with a Cloak Quotes
There are no approved quotes yet for this movie.