The Man with One Red Shoe
(1985)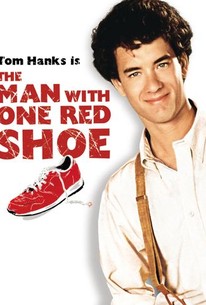 The Man with One Red Shoe Photos
Movie Info
In this rather routine adaptation of the French hit, The Tall Blond Man with One Black Shoe, Richard (Tom Hanks) is a bicycling violinist who is innocently drawn into a nasty struggle for control of the CIA. Cooper (Dabney Coleman) is the unscrupulous current head honcho of the notorious U.S. agency, Ross (Charles Durning) is his nemesis, and Maddy (Lori Singer) works for Cooper. After Richard the violinist is forced into the picture, Maddy fights off an attraction to the rather dull man, and complications introduce enough gadgetry to fill a James Bond movie, almost. ~ Eleanor Mannikka, Rovi
Critic Reviews for The Man with One Red Shoe
Audience Reviews for The Man with One Red Shoe
Cooper: Honey, will you please - what are the odds of the Russians attacking on a Thursday night?  The Man with One Red Shoe reminds me of another comedy called The Man Who Knew Too Little starring Bill Murray. Both films deal with someone being suspected of bring a spy, that has absolutely no idea what is going on. I enjoyed The Man Who Knew Too Little more then I did this one. The Man with One Red Shoe is enjoyable to a degree, because of Tom Hanks presence and also because of a woman named Lori Singer who plays a spy; and she is sexy. This is early, early Tom Hanks; way before he became a star. It's even pre-Big. Still, even early on in his career, he's still the likable actor we would come to see in much bigger and better movies.  Richard is a violinist who is thought to be a spy. In reality, he was just picked at random to be a scapegoat. The CIA, thinking he really is a spy, starts trailing him, little to his knowledge. One of the CIA agents that is trailing him is the sexy spy I was talking about. Richard falls for her, as she flirts with him to gain information. This isn't a plot that is going to make you think, nor is it going to be one that is original. The Man with One Red Shoe is a highly predictable film. In fact, it ends up being a pretty standard romantic comedy with a botched thriller finale. The movie was light on the comedy and the thriller, suspense aspect of it was just embarrassing. This is only really worth the watch if you are a huge Tom Hanks fan and feel like you need to see everything he ever did. He's okay here as well, so if that's the only reason you want to watch it, go ahead. Just know that the movie on the whole is extremely mediocre. Take away Hanks and Singer and there is absolutely nothing of merit here. This plot could have been fun, in an unoriginal way, but it just couldn't deliver on the jokes like The Man Who Knew Too Little did. 
Melvin White
Super Reviewer
½
I saw this a long time ago, I don't remember why I didn't like it, I'll have to see it again some time.
½
Good cast in this old Hanks flick much like many old 80's films you find allot of well known faces throughout which does add to the film and gives it a good solid base unlike many new films. The plot isn't too original and the film isn't too exciting but its entertaining enough with Hanks being goofy and lovable as he used to be in the 'Splash' era, James Belushi has afew nice moments and there is some nice fluffy 'action' sequences that give it abit more spice but overall its very tame and dated now of course, nice but weak.
Phil Hubbs
Super Reviewer
The Man with One Red Shoe Quotes
There are no approved quotes yet for this movie.