The Man Without a Face
(1993)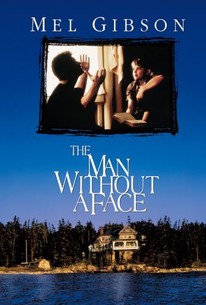 The Man Without a Face Photos
Movie Info
Mel Gibson made his feature film directing debut with this drama, loosely based on the book by Isabel Holland, which combines elements from The Elephant Man, Mask, Scent of a Woman, and The Karate Kid in a study of the capacity for human trust and compassion. Gibson plays Justin McLeod, a former teacher who, after having his face and his body terribly disfigured in an automobile accident, has taken to living alone in a big house in an island off the coast of Maine. McLeod works as a free-lance artist who undergoes the humiliation of being shunned by his neighbors and called "hamburger head" behind his back. McLeod keeps to himself and wants nothing to do with his neighbors. But one day an adolescent boy, Chuck Norstadt (Nick Stahl), comes knocking at his door desperate for a tutor. At first suspicious, McLeod gradually warms up to Chuck and they become pals. But their burgeoning friendship is frowned upon by Chuck's family and the local police chief, Stark (Geoffrey Lewis), apparently because of rumors circulating that McLeod had a record concerning child molestation. This piece of gossip threatens Chuck with the loss of his teacher and a new-found friend.
News & Interviews for The Man Without a Face
Critic Reviews for The Man Without a Face
Audience Reviews for The Man Without a Face
½
Two outsiders of society, one a boy thought stupid and the other a burn victim with a criminal record, encourage each other and find reasons to persevere in a misunderstanding world. A quiet and emotional piece that subverts Gibson's characterisation as merely an action hero.
Kevin M. Williams
Super Reviewer
Mel Gibson's directorial debut deals with a familiar territory we have seen in many films - A deformed reclusive befriending a young boy, believing that he has been given a second chance to heal old wounds. But the movie has more to it especially with the revelation of character's dark past. Even with a less than convincing makeup, Mel Gibson delivers a powerful performance as the face burned loner.
This Awesome piece from Mel Gibson factory made me watch it several times.
The Man Without a Face Quotes
There are no approved quotes yet for this movie.