Mandrake
(2010)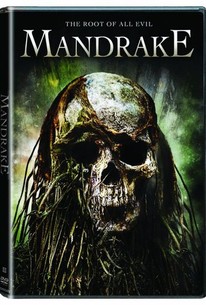 AUDIENCE SCORE
Critic Consensus: No consensus yet.
Movie Info
A greedy adventurer claims a mythical dagger, and awakens an ancient evil with a hunger for human flesh. Thanks to financier Harry Vargas, Darren McCall can scour the globe in search of priceless treasures. In his quest to retrieve a bejeweled blade from a sacred burial ground, however, McCall stirs a vicious creature made of half flora, and half fauna. Now that the beast has been awoken, only flesh and blood will satisfy its unholy appetite.
Critic Reviews for Mandrake
There are no critic reviews yet for Mandrake. Keep checking Rotten Tomatoes for updates!
Audience Reviews for Mandrake
I got this movie thinking that is about one of my favourite comic characters - Mandrake the Magician... but it wasn't. It was about a plant Mandrake! Well, everything will be OK if writers knew one fact about setting this story in a fictitious Latin American country: Mandrake is native to Eurasia and did not grow in the Americas until transplanted well after the era of the Conquistadors! And the plot of the story is involving a conquistador and this plant! We have a soldier of fortune Sgt. McCall leading an expedition sponsored by the powerful Harry Vargas and formed by the anthropologist Dr. Felicia and archaeologist Lin, the local Santiago Zavala and a baggage carrier through the jungle. In the base, Carla Manning gives support to McCall's team and is the liaison with Harry, who is obsessed with the dagger. They find the secret place of the dagger but soon they discover that nature and the Yamballi tribe are not happy with that! [img]http://www.coverdude.com/covers/mandrake-2010-ws-r2-front-cover-79947.jpg[/img] This movie should be rated as a B grade but the acting by Max Martini, Betsy Russell, Benito Martinez, Jon Mack and Nick Gomez wasn't as bad as I expected. The story by David Ray could be classified as ridiculous but everything else was just below average. Very predictable with no suspense - too simple to enjoy watching it. I stayed the full 89 minutes, expecting that the director Tripp Reed would surprise me, but nothing happened. Avoid, if possible!
Mandrake Quotes
There are no approved quotes yet for this movie.