All the Boys Love Mandy Lane
(2013)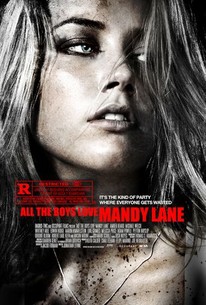 TOMATOMETER
AUDIENCE SCORE
Critic Consensus: Mandy Lane has enough wit and craft to spark the horror fan's interest, but is not sufficiently original for mainstream audiences.
All the Boys Love Mandy Lane Photos
Movie Info
Starring Amber Heard and Anson Mount, ALL THE BOYS LOVE MANDY LANE is about a group of high-schoolers who invite Mandy Lane, "a good girl" who becomes the object of everyone's affection after returning from summer break, to a weekend party on a secluded ranch. While the festivities rage on, the number of revelers begins to mysteriously drop one at a time. (c) Radius-TWC
News & Interviews for All the Boys Love Mandy Lane
Critic Reviews for All the Boys Love Mandy Lane
Audience Reviews for All the Boys Love Mandy Lane
½
If you like your movies slow, boring, and dumb than this "horror" film is for you. Most of it is underage teenagers drinking lots of booze, smoking weed, taking pills, and having sex with one another until someone gets killed. I know this formula all too well. It can be a guilty pleasure at times if done well, but here it is not even remotely done well. The acting is awful, the dialog is laughable at times, and every character central to the plot lacks any motivation at all. Some people have called this a thinker's slasher. I have no idea how they thought that. The movie does look good though. It has a great vintage horror movie look to it. Amber Heard is clearly the central piece and males will fawn over her, but it isn't nearly enough to sit through this. After 30 minutes I wanted it to end. Jonathon Levine has directed some good movies, but I don't know what he was thinking here.
Josh Lewis
Super Reviewer
Before he conquered Hollywood with great films like 50/50 and Warm Bodies, director Jonathan Levine made a little horror movie called All the Boys Love Mandy Lane. It premiered in Toronto back in 2006, got picked up by a distributor, then sat on the shelf for seven years and is now finally getting a release. There's been a fare bit of hype being built from those fans who did see it way back when. Now that I've seen it, I'm not so sure where the hype is coming from. One thing I did admire about the film is the premise. Mandy Lane, who just one year ago was an average nobody, suddenly blossomed into the hottest girl at school. She's still a shy, quiet, "virgin-like" girl, but now all the boys want to get with her, persuading the "in" crowd to invite Mandy to come with them to a quiet cabin for a weekend of partying. The story definitely touches upon how superficial teenage relationships can be, and on the pressure teenage girls feel to look beautiful from both boys and their fellow female acquaintances. But the film doesn't explore this theme with much depth. The script is too shallow to extract any meaning. Soon enough the teens are dispatched one by one at the hands of a serial killer. The violence is gory, but the execution is predictable and lacking any suspense. I never felt engaged towards any of the characters, and couldn't care less about the outcome, which by the way makes no sense in comparison to the rest of the narrative. As a slasher film, All the Boys Love Mandy Lane lacks scares and tension. As a critique on teenage life, it's a missed opportunity.
Edward Boxler
Super Reviewer
All the Boys Love Mandy Lane Quotes