Mangiati vivi
(1980)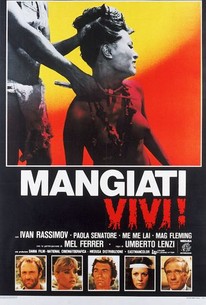 AUDIENCE SCORE
Critic Consensus: No consensus yet.
Movie Info
A courageous mercenary journeys to the New Guinea jungle to find a missing young woman. He brings with him an expert on the terrain and with only a rotting, super-8 film to guide them, they try to figure out where she is. As they make the dangerous journey, they must deal with hungry cannibals and a crazed religious zealot. This Italian horror adventure is filled with blood, gore, and violence that includes the killing of real animals.
Critic Reviews for Mangiati vivi
All Critics (3) | Fresh (1) | Rotten (2)
Eaten Alive is a revolting gem of cartoonish depravity and yes, the titular promise of characters being consumed while conscious does in fact play out...
Com suas referências a Jim Jones, excesso de nudez gratuita e cenas gráficas de animais sendo estripados, este exemplar dos filmes "canibais" italianos é tão ruim que diverte.
July 15, 2005 | Rating: 1/5
Audience Reviews for Mangiati vivi
The italian canibal genre had it's fair share of bad, tasteless, offensive exploitation trash. But Eaten Alive took it into a whole new level, for not just being a really bad movie, but for introducing way too many rape scenes that last forever and are obviously not doing anything into the whole overall arch of the picture.
Francisco Godinho
Super Reviewer
½
The film begins in Canada and New York, with an Asian hitman killing his victims by blowing poisoned darts at them. He is then run over by a truck and killed. The police find some film on him, and wouldn't you know, the film contains scenes of a cannibal ritual, which includes a woman named Sheila's(Janet Agren) missing sister. A professor tells Sheila that the ritual is from a tribe in New Guinea, so she travels there and finds Vietnam war veteran Mark Butler (cannibal film regular Robert Kerman) and pays him to find her sister. The film then goes off into the usual cannibal film thing. The odd animal is killed, they find parts of bodies etc. It turns out that her missing sister is part of a religious community in the jungle lead by a character named Jonas. He brainwashes all his followers, and has strict rules, like no drinking of alcohol. The version I watched was sadly cut, and some gory scenes that were about to be shown then quickly jumped to another scene. The music deserves mention too, a catchy tune plays during the opening credits. The other music during the film is ok. It's not nearly as good as Cannibal Holocaust, or even Lenzi's other cannibal flick Ferox, but if you like cannibal films it's worth checking out.
Cassandra Maples
Super Reviewer
Lazy attempt from Umberto Lenzi to make a quick bit of cash. The majority of the gore scenes in this have been ripped straight from other Cannibal movies like 'Deep River Savages' and 'Mountain of the Cannibal God'! Apart from this it's not too bad as a Jungle Adventure movie, but expect your usual quota of sexual violence and animal violence which is standard for these types of Italian exploitation.
Mangiati vivi Quotes
There are no approved quotes yet for this movie.