The Mangler 2
(2001)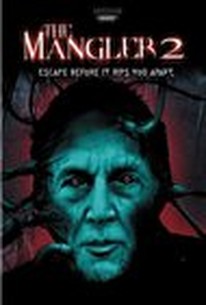 AUDIENCE SCORE
Critic Consensus: No consensus yet.
Movie Info
Troubled and wealthy student Jo (Chelse Swain) inadvertently loads in a secret, deadly experimental computer virus -- Mangler 2.0 -- into her college's high-tech system. Soon, the school's security system has the ability to turn washing machines into deadly weapons, and no one is safe, not even innocent coeds trying to get their whites their whitest. Worst of all, the school's headmaster (Lance Henriksen) has taken to the virus, so much so in fact, he lets it infect his very body -- he becomes part of the machine. Soon, someone will have to stop him before it's too late. And right now can't be soon enough. ~ Buzz McClain, Rovi
Critic Reviews for The Mangler 2
All Critics (3) | Fresh (0) | Rotten (3) | DVD (3)
I've never seen the original "The Mangler" and after watching this, I'm pretty sure I'm not missing much.
The Mangler 2 may be back to the same ol' grind, but it's still a cut below the rest.
Obvious and unbearably stupid.
April 3, 2002 | Rating: 2/5
Audience Reviews for The Mangler 2
A generic techno-thriller, The Mangler 2 has nothing whatsoever to do with Stephen King's original story. When a rebellious college student downloads the Mangler Virus onto her school's computer system it takes over and proceeds to kill everyone at the school. Clearly written by someone who doesn't know how computers work, the whole thing is preposterous. And the bad acting and cheap sets don't help any. Just an incredibly stupid and poorly made film, The Mangler 2 is complete garbage.
Dann Michalski
Super Reviewer
Not a direct sequel to the first, just another story of possessed machines gone murderous after a cyber virus infects the computer system of a high-tech school and starts to kill off the students and teachers. It's such a good damn idea that should have provided plenty of inventive kills and plenty of carnage, but the kills are lame, tame and out of frame. I accept that the film is low-budget but there was no sign of it's $4 million budget whatsoever! Movies with half the money have produced some amazingly creative and entertaining films. This one just started to get embarassing and I can't believe Lance Henrikson will star in just any old crap these days, though he is the best thing about the film really to be fair.
The Mangler 2 Quotes
There are no approved quotes yet for this movie.