Manhattan Baby
(1984)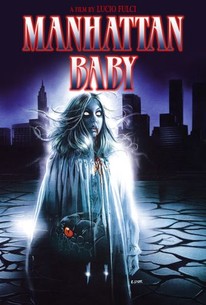 AUDIENCE SCORE
Critic Consensus: No consensus yet.
Movie Info
Shot in 1982 and never released theatrically, this uninspired horror film chronicles the discovery of a blue "evil eye" stone in Egypt by archaeologist Prof. George Hacker. No sooner does he find the stone than it blinds him. Meanwhile, an sorceress gives the Hacker's daughter Suzy a special amulet that confers the power of telekinesis. When Suzy returns to New York, a researcher into the paranormal finds out that she is a pawn for an ancient and evil Egyptian cult. Matters go from bad to worse for poor Suzy, with the climax dripping with the gore for which director Lucio Fulci was famous.
Critic Reviews for Manhattan Baby
All Critics (3) | Fresh (0) | Rotten (3) | DVD (2)
This is one of Fulci's lesser films---which is another way of saying it really stinks.
One of Lucio Fulci's worst, and that's saying something.
October 9, 2001 | Rating: 37/100
Audience Reviews for Manhattan Baby
Manhattan Baby has been unfairly criticized for being one of Lucio Fulci's worst movies. Although far from perfect, this is nonetheless a pretty good effort that delivers some pretty effective thrills. I believe that one of the reasons that this film has received such negativity among genre fans is that this film departs from Fulci's previous efforts and he does something different. The film does have some gore, but it's very minimal compared to others in his filmography. The film relies on atmosphere to create terror, and even if it's not Fulci's finest work, this is among his most underrated. Manhattan Baby is a film that I would recommend more to the diehard Fulci fan. If you're just getting into his work, you may not want to start here. The film boasts an interesting plot, but one that definitely left a lot of room for improvement. Though I enjoyed the film, the film should have been better due to the fact that it boasted an interesting concept a terrific sense of atmosphere. In terms of what you'd expect from a Fulci film, you won't be disappointed, as this one still boasts plenty of bizarre and eccentric moments to thrill the diehard Fulci fans. If you're simply a casual fan, you may want to pass up on this; only the most demanding fan of Fulci's work will enjoy it, and appreciate its supernatural terror. This is a worthwhile film to view, especially if you enjoy his work, and though it is not perfect, it still is a well crafted film that has everything you'd expect from a Fulci film. Manhattan Baby is an underrated gem, that deserves to be seen and enjoyed for what it is, a supernatural nightmare, which is what Fulci accomplished even if it doesn't live up to The Beyond.
½
This wasn't a fantastic horror movie, but I gotta say I was intrigued. The story about the influence of ancient evil on the young girl and all the weird things that happened to everyone was a new and different take on possession. That was mainly what I liked about it. But I felt there could have been more that happened to the characters, and some better death scenes. Overall it's pretty good, and if you like Fulci's films, you should see this one.
2.3/10 Sometimes, I find it possible to admire mediocre filmmakers, and at other times; I find it rather difficult to accept them for the nigh-decent people that they are; or at least that can be said when discussing how good they are at their job. Lucio Fulci, the Godfather of Gore, has disappointed me more than once; however, "Manhattan Baby" feels like some sort of test, and it's not a very entertaining or endurable one. In fact, I'll just go right ahead and call it unbearable, because that is what it is. Fulci didn't seem to understand that he IS the Godfather of Gore, but nothing more. He thought he was a surrealist; something that we all know he is not. He's never made a genuinely scary movie. I imagine some of his movies work as midnight-movies. "Manhattan Baby" works as nothing more than a tedious exercise in mistake-making for its genre. I mean what a waste of time and potential. If there is one thing in the movie that could be seen as a redeeming quality, it's the cinematography. But if I want a movie built around imagery that isn't stunning and admirable, but not-too-memorable cinematography that isn't worth writing home about, I'll watch something that I can actually, well, watch; and without having to fight to stay awake. An Egyptologist and his family return home from a trip to Egypt with a souvenir in the form of an ancient artifact. They figure that it would just be cool to have; and the daughter keeps it close by. However, when the family returns to Manhattan, the little girl notices that strange things are occurring. People are dying via broken elevators, cobras are randomly attacking people who happen to be busy investigating photos, and better yet, photographs are revealing strange images. There's not much logical explanation for all this aside from "the artifact was cursed!" But how else could we explain it? I guess that's one thing - and only one thing - that Lucio Fulci understands; that there is often only a single explanation to many things. Even if that one thing is a very stupid and absurd explanation. This film sucks. It is bad, bad, bad. I don't even want to call it a movie, because it disrespects my intelligence and my will to view cinema as I do. Maybe I should just give up on Fulci (yeah right!) right now and spare myself more boring movie-watching sessions. Or I could keep going, keep whining, and keep preventing you from making the grave mistakes I made when I watched these "films". Hopefully this is the worst Fulci can do. But oh...I have my doubts. The film has a decent visual look, and I liked what Fulci was TRYING to do - but couldn't pull off -when he staged the "dream-like sequences". The children of the film fall victim and captive to the curse of the artifact, and claim to go on "trips", or adventures, if you will. Fulci obviously tried hard to make these scenes work, but in the end...they just don't. I suppose the problem is the many distractions caused by the insanely lame dialogue, the convoluted and borderline-mental plot, and lastly, the horrid acting. Of course, I'm not going to criticize Fulci as a director when criticizing "Manhattan Baby"; he unleashes some decent creativity in the gory-kill-sequences. Those are typically well-staged. But nothing can save a movie from a lousy, boring narrative. "Manhattan Baby" is just plain bad.
Ryan Marshall
Super Reviewer
Manhattan Baby Quotes
There are no approved quotes yet for this movie.