Manhattan Melodrama
(1934)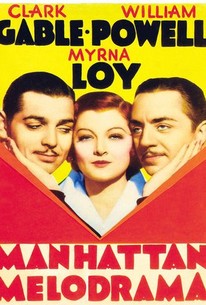 Manhattan Melodrama Photos
Movie Info
Notorious as the movie that gangster John Dillinger attended on the night he was killed, Manhattan Melodrama has weathered the years as one of MGM's finest examples of pure storytelling. The pageant-like story begins in 1904, when the excursion steamer "General Slocum" blows up and burns in the East River. Two young boys are orphaned by the disaster. They are adopted by a kindly Jewish businessman (Harry Green) who has lost his own children. Years later, when he is killed during a anarchist rally, the boys are separated once more. They grow up to be straight-arrow attorney Jim Wade (William Powell) and big-time gambler Blackie Gallagher (Clark Gable). Though the two men still like and respect one another, they are now on opposite sides of the legal fence. The professional rivalry becomes personal when Jim marries Blackie's ex-mistress Eleanor (Myrna Loy). The typically stellar MGM supporting cast includes Nat Pendleton as Blackie's faithful stooge, Isabel Jewell as his addled girlfriend, Mickey Rooney as the younger Blackie (a marvelous piece of mimicry here), and blonde singer Shirley Ross, here appearing in blackface in a Harlem nightclub sequence, singing a new Richard Rodgers and Lorenz Hart tune that would later gain popularity (with different lyrics) as "Blue Moon."
Critic Reviews for Manhattan Melodrama
Audience Reviews for Manhattan Melodrama
Manhattan Melodrama is famous for being the last movie that infamous bank robber John Dillinger saw before being gunned down outside the Biograph Theatre on July 22nd 1934. Obviously I was interested in seeing the film due to its history surrounding that legendary showing. This is a brilliant gangster film that is a defining classic of the genre. Brilliantly acted by Clark Gable, this is a must see for cinema buffs who enjoy classic films that helped defined the genre. Before there was The Godfather, there was this film. Clark Gable is impressive here and the story is quite good and highly engaging. This is also a must see for people that are fascinated with John Dillinger because I feel that in some way, this movie is part of his legacy. Nonetheless, the plot is engaging and like I said is a classic gangster picture that would pave the way for all to follow. I really enjoyed the film, and felt it was very different from other films in the genre. In that respect, it is a film that helped shape the crime genre. Manhattan Melodrama is filled with action, drama, a good cast and effective pacing to really make this stand out. I really enjoyed the film and thought it was an entertaining gangster film, definitely among the finest in the genre. There are of course better genre films, but Manhattan Melodrama is a worthwhile viewing experience that should definitely thrill the diehard cinema buff. W.s Van Dyke has crafted a memorable and historically significant picture that stands out even by today's standards.
"Manhattan Melodrama," which won an Oscar for Best Screenplay, is yet another 1930s gem that I've found lately. First was "Dancing Lady," then "Hell's Angels," and now "Manhattan Melodrama." The 1930s were a golden age of American cinema, and I've barely scratched the surface of it. How exciting it must have been in that era to work in the movies. Clark Gable (who was also in "Dancing Lady") and William Powell play men who've had a life-long bond. They were orphaned together on the same day in a terrible boating accident. One is studious and upstanding (Powell); the other (Gable) is a drop-out who got into bootlegging and gambling. When the studious one becomes Manhattan District Attorney, his close friendship with a gangster becomes a problem. When their lives begin to intersect more, including sharing a woman (played wonderfully by Myrna Loy), the complications multiply. It's a fascinating, pretty serious drama that I can't imagine would disappoint anyone. It's also briskly paced, brilliantly edited, and perfectly directed (by W.S. Van Dyke). Highly recommended. Incidental note: Gangster John Dillinger saw this movie the night he died. He was shot by FBI agents as he exited the theater. I can certainly see why he would have been attracted to this movie. It's a complex portrait of a boy born on the wrong side of the tracks.
William Dunmyer
Super Reviewer
½
I'm not sure why this film is talked about so much, it isn't very different from other gangster movies of the time. There are some good actors in the movie, though, the best thing about this movie was the actors.
Manhattan Melodrama Quotes
There are no approved quotes yet for this movie.