Manhattan Murder Mystery
(1993)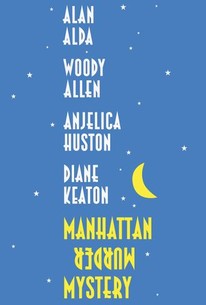 Manhattan Murder Mystery Photos
Movie Info
There's a real murder and a real mystery in Woody Allen's Manhattan Murder Mystery, but these plot pegs are used mainly to allow Allen to explore modern urban relationships. Allen plays a N.Y.C. book editor, Larry Lipton, married to Carol (Diane Keaton, who replaced Mia Farrow at the last minute, for reasons well publicized at the time). Carol is a free spirit, ever willing to try new experiences, but Larry is a wet blanket. When it begins to look like a neighbor has killed his wife, Carol is eager to investigate the mystery, but Larry thinks her suspicions are nonsensical and doesn't want to leave his apartment. Undaunted, Carol finds another "Nick Charles" in the form of family friend Ted (Alan Alda), who joins the investigation, and feels attracted to Carol and isn't afraid to let her know. Meanwhile, a writer under Larry's aegis (Anjelica Huston), who feels romantically drawn to him, also decides to join in the fun. Slightly jealous of Carol in the face of her budding relationship with Ted, Larry reluctantly agrees to go along on her clue-hunting expedition -- and it is he who discovers the corpse, who as it turns out was killed after Carol started poking around the apartment building.
News & Interviews for Manhattan Murder Mystery
Critic Reviews for Manhattan Murder Mystery
Audience Reviews for Manhattan Murder Mystery
One of Allen's greatest nineties' films, his bulk of work is neurotic comedies and iffy dramas. He has hit some home runs with the very subtle Crimes and Misdemeanors and classics such as Manhattan and Annie Hall. What keeps this film fresh is the fact that it's so realistic in the way it handles both the way the older couple investigated the supposed murder of their neighbor, and the backstory and look into the relationship between them. The couple who live across the hall from an old couple (Allen and Keaton) are starting their golden years together in cute seclusion, almost as an extension of Annie Hall's storyline, except now the couple has fallen into easy boredom with each other. Keaton's niche as kooky or quirky makes this film work well, as she runs around trying to solve a crime which might not even have happened. What makes this so great as well is the electricity and childlike glee of the ensemble as they find clues and piece together the events of the murder. They act like clumsy teenagers all along the way, and yet there is a bitter hostility between every one of these characters as they realize their fate and servitude as married people. Along with the couple are Alan Alda and Anjelica Huston, who both co-starred in an earlier Allen film called Crimes and Misdemeanors, which was a sharp drama. This was very sweet, a little guarded with the inter-personal relationships between every character, but the plot was delicious. I could have eaten up every morsel as we went along, hanging on the words of the saucy Anjelica Huston and the morbid Diane Keaton. It's an ensemble work in short, and is really more of a film for experienced middle aged individuals who are fans of the director's, and I'm guessing that's who he made it for, besides being a love letter to New York, as many of his films are.
Spencer S.
Super Reviewer
I don't claim to be a Woody Allen film expert by any means. I've only seen a handle of his films (as of this writing), but I tend to enjoy them every single time I see them. Maybe it's because Woody Allen is so much fun to watch, especially with the onscreen chemistry between him and Diane Keaton. Manhattan Murder Mystery probably isn't one of his better films, but it has the Woody Allen touches all over it. It's also a very intriguing mystery that has some geniunely creepy moments mixed with side-splitting nervous dialogue and performances. It's also fun to see who pops up in his films. This time around, we're treated to Alan Alda and Angelica Huston, two great ones. The plotline is a little bit ridiculous at times, but not wholly unbelievale. Just unlikely and ironic. Diane Keaton also gives a near-catatonic perfomance as the nosey neighbor. I felt exhausted after seeing this film, but I really enjoyed it. It's got a very good lead cast, an interesting story, and of course, Woody Allen himself. I guess one couldn't ask for much more.
Tim Salmons
Super Reviewer
½
An intriguing blend of mystery and comedy. Feels like Alvy and Annie got old and moved in next door to a possible murderer. Clearly a love letter to the classic thrillers of Billy Wilder and Orson Welles. Utilizes a lot of the great hand held camera work that we saw in 1992's Husbands and Wives. However, the characters feel very underdeveloped. On top of this, even though there are some incredible one liners, the comedy is inconsistant. While I am not expecting a laugh a minute in my films, some more comedic breaks could have been utilized to break up the incredibly absurd mystery. Although certainly not his best work, it is worth a watch.
Manhattan Murder Mystery Quotes
| | |
| --- | --- |
| Larry Lipton: | There's nothing wrong with you that can't be cured with a little Prozac and a polo mallet. |
| | |
| --- | --- |
| Larry Lipton: | Claustrophobia and a dead body: This is the neurotic jackpot. |
| | |
| --- | --- |
| Marcia Fox: | You're taking me to dinner, right? |
| Marcia Fox: | You're taking me to dinner, right? |
| Ted: | Yeah, right. Absolutely. Only we can't sleep together. |
| Ted: | Right, absolutely! Only we can't sleep together, not tonight. |
| Marcia Fox: | Why not? |
| Marcia Fox: | Why not? |
| Ted: | Not... not tonight. |
| Ted: | Well, because I already slept with Helen Moss once today, and I'm not young and active like I used to be. |