Maniac
(1934)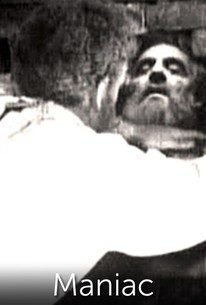 Movie Info
Produced and directed by exploitation specialist Dwain Esper and written by Mrs. Esper, Hildegarde Stade, this ultra low-budget "educational" melodrama not only defied logic but broke virtually every rule of narrative film-making. That would not necessarily be a detriment to a film ostensibly warning about the dangers of untreated insanity, but Maniac is so badly handled in an obvious attempt to both horrify and titillate that it defies description. Vaguely based on Poe's The Black Cat and referring in several scenes to the same author's Murders in the Rue Morgue, Maniac told a rambling, sometimes incoherent story of a vaudeville impersonator turned lab assistant to an insane scientist. Like most Mad Medicos, Dr. Meirschultz (Horace B. Carpenter) is attempting to bring dead tissue to life but this particular scientist is accidentally killed in the process. His assistant (Bill Woods) takes over his persona, walling up the dead doc in the process. The protagonist's increasing dementia -- which threatens to engulf the viewing audience as well -- is depicted via inserts from silent films such as Benjamin Christensen's classic Witchcraft Through the Ages and Fritz Lang's Siegfried. There is plenty of gratuitous feline footage and at one point the fake Dr. Meirschultz actually devours a cat's eye! ("Why," he exclaims, "It's not unlike a grape or an oyster!") For unexplained reasons, the faux doctor examines a couple of women in various stages of undress. The presence of these women remains vague and they never appear again. There is also a deranged person (Ted Edwards) who believes he is the re-incarnation of the orangutan killer in "Rue Morgue"; a couple of women fighting with syringes; and various shots of girls lounging about in their underwear for no apparent reason other than audience titillation. Like most exploitation melodramas, Maniac is cast with a mix of has-beens and unknown beginners who remained unknown. Poor Horace B. Carpenter, a silent era producer/director/actor who played whitehaired Western characters in sound films, was made a complete fool in a role perhaps written for the too-expensive Bela Lugosi. Bill Woods and Ted Edwards, as the vaudeville performer and the orangutan wannabe respectively, saw their careers go nowhere but down after Maniac.The Latter's wife, incidentally, was played by one Phyllis Diller, a starlet who had absolutely no connection to the later comedienne of the same name; and Marian Blackton, the sister of the film's assistant director and daughter of screen pioneer J. Stuart Blackton, appears in male drag as a cat-catching neighbor. Despite all that, Maniac actually delivered a lot less than it's lurid art-work promised, a fate it shared with the vast majority of exploitation melodramas.
News & Interviews for Maniac
Critic Reviews for Maniac
Audience Reviews for Maniac
½
I hoped this short feature would be "fun," but it's just a creaky, horribly acted "Frankenstein" ripoff with a barely coherent script. Pretty girls wearing lingerie or less (pre-Hays Code nudity is always a kick) turn up for no reason beyond titillation, while stylistic quirks include multiple-image "daydreams" and academic title cards describing a character's evident mental illnesses. Ed Wood films are more entertaining and aren't burdened with unpleasant cruelty to cats. I believe "Maniac" is 51 minutes long, rather than 67 minutes as cited above.
Eric Broome
Super Reviewer
½
The earliest example of a trashy horror/exploitation flick. This movie, like 'Plan 9 from Outer Space', is so bad that it is rather good. The acting is hilariously over-the-top, the 'educational' slides for mental illness are weirdly phrased, and plenty of entertainingly surreal moments (like a scene where the scientist eats a cat's eye). A truly outrageous schlocky horror flick that is worth seeing because of how consistently laughable it is throughout.
Christopher Heim
Super Reviewer
Sometimes I liked this movie, and sometimes I hated this movie. First of all, I love cats! Second, this movie is really outrageous, over the top, and somewhat funny, and that's what I liked about it. Third, this movie feels like an experimental film at times, for example, the superimposed devils. I didn't like the experimental feel it had, it could have been a great horror movie, but it tries too hard to define what the word maniac means, it even quotes experts. It's an interesting movie to watch, but I don't recommend it.
Maniac Quotes
There are no approved quotes yet for this movie.