Maniac
(1980)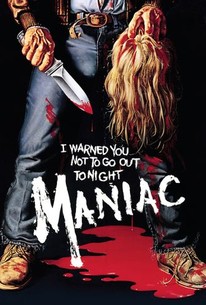 Movie Info
Maniac, given an X-rating for extreme violence and gore, is the story of a New York psycho (Joe Spinell) who kills females and scalps them for his mannequin collection at home.
Critic Reviews for Maniac
Audience Reviews for Maniac
Raw, gritty, depraved and in your face are some of the words that can describe Maniac. This is a powerful and riveting film that when originally released created controversy. Effectively directed by William Lustig, this film tells the story of Frank Zito played by Joe Spinell in a tense performance that is quite mesmerizing. Maniac is a sick, depraved film, and if you truly want to be disturbed, watch it. I mean that as a compliment of course. Maniac is definitely terrifying; I mean there's nothing scarier than a serial killer stalking the streets, right? It's quite possibly the most disturbing film ever made, as the kills in this film seem convincingly realistic, these are not Friday the 13th Jason Voorhees style kills. That's what makes Maniac so different from every other slasher films, its realism. If you want a solid, disturbing horror film to watch, Maniac is the film for you. Of course this is not an extraordinary piece of cinema, but it is a pulse pounding film that has the power to truly shock you to the core. With that being said, this is not a film for everyone, as it is quite disturbing and unnerving. Fans of obscured horror films will certainly enjoy this one, and it is one of the most intense films in the genre. Maniac is a menacing horror picture that uses simple ideas to induce shock in its viewers. Spinell is great here, and he can definitely be a memorable villain that is quite memorable on-screen. For fans of good gore effects, this title will certainly satisfy, and the effects are well done by effects artist Tom Savini, who also plays Disco Boy in one of the film's most memorable scenes. If you love these types of films, then give it a shot, it is an underrated film, and one that does deserve to be rediscovered. Although violent, this is one of those Slasher films that should be seen due to a more realistic approach to its kills, and with that being said, it will certainly appeal to the diehard horror fans looking for memorable thrills.
½
I would almost rate this as the best horror movie I've watched this season if it wasn't for the shlocky ending that sprinkles both sequel bait and betrays the psychological edge with cheaply phantasmagorical imagery like Frank's mother's corpse and the mannequins reanimating. Yes, the film earns its controversial reputation with ultraviolent depictions of scalpings and a shotgun blast in slow-motion, but horror movies aren't meant to be craven. The music by Jay Chattaway is haunting and like 'Henry: Portrait of a Serial Killer', it is insightful as to the abnormal pathology of sociopaths and their addictive behavior. Frank speaks lucidly about the preservation of beauty and argues that the artist distills his subject perfectly in the given moment and the subject can never escape. Lustig chronicles a slice-of-life diary of Spinell who is squirm-inducing and brilliant in the role. What is so nonplusing about Frank is that he can switch into a highly charismatic playboy on a whim such as his first date with Caroline Munro where he teases her about the other eligible bachelors about her. The film is truly frightening and disturbingly doom-laden in such a fashion that it is not a jaunty experience, but it is indelible and Spinell is Oscar-worthy.
Cory Taylor
Super Reviewer
SIKO!!!!!!!!!!! Really bad film i think i can relate to the famous head blowing off scene but still... Good acting put terrible plotting and work. BTW GET INTO THE KILLERS MIND!!!!
Maniac Quotes
There are no approved quotes yet for this movie.