Mannaja (A Man Called Blade)
(1980)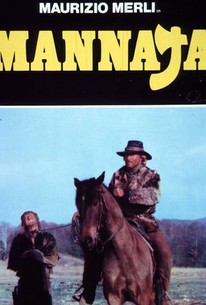 AUDIENCE SCORE
Critic Consensus: No consensus yet.
Movie Info
Despite coming along fairly late in the cycle, this spaghetti western is one of the genre's best. Maurizio Merli plays Blade, a bounty hunter who captures outlaw Burt Craven (Donald O'Brien) by throwing his hatchet and chopping off Craven's hand. In the nearby town of Suttonstead, Blade wins a poker game against Voller (Caligula's John Steiner), and -- because he can't get a reward for Craven -- frees his captive. Later, Voller ambushes Blade in the wilderness, burying him up to his neck and sewing his eyelids open so his eyes will be burnt out by the sun. Craven discovers Blade and repays his freedom by saving the now-blinded gunman, who learns to shoot by sound rather than sight. The conclusion has Blade getting his revenge in a dark silver mine, where he has the advantage against Voller and his men. Director Sergio Martino is best known for stylish thrillers and uses his considerable visual style to give this violent, grandiose film an almost mythical resonance. Fans of gritty realism in spaghetti westerns may not relate to Martino's flamboyant style, but most Euro-devotees will find it immensely appealing. Martine Brochard, Rik Battaglia, and Philippe Leroy co-star.
Critic Reviews for Mannaja (A Man Called Blade)
There are no critic reviews yet for Mannaja (A Man Called Blade). Keep checking Rotten Tomatoes for updates!
Audience Reviews for Mannaja (A Man Called Blade)
The year 1977 saw some of the very last SW being released in Italy, among those there was Mannaja, and it truly feels like a recap of the genre in many ways. We have a man with no name looking to avenge past scores, he wants to make some quick money too of course. Women are disposable for him, and everything takes place in a semi-deserted town full of dust. He will be betrayed, captured by the bad guys and crippled in some way to hurt his skills. Sounds familiar? The thing is, the movie knows how to give all this a unique flavour and style. Mannaja carries around a hand-axe, the main bad guy has a dracula cape and two dogs that follow him everywhere. The score from the Angelis brothers tries to replicate a bit of the Keoma vibe, is not as effective, but once more, it's part of the personality of the film. Mannaja is played by regular poliziotteschi star Maurizio Merli. He plays the character by the book; always cold, always smiling when things are going his way, chewing his dialogue with the right ammount of conviction. Martino's direction is sharp and very cool to look at, his giallo sensibilities play a key role in giving Mannaja it's form and shape. The SW says goodbye, but it sure does it with a bang.
Tsubaki Sanjuro
Super Reviewer
½
Kind've interesting, but nothing special. It offers nothing unique and is sort of a mesh up of other characters. I did like the wagon chase and the tomahawk killing, but it wasn't enough to keep me in the film. Maybe with a better cast it could've been something more. However, it's not the long lost spaghetti western that I was hoping it to be.
Conner Rainwater
Super Reviewer
Marion Ravenwood
Super Reviewer
Mannaja (A Man Called Blade) Quotes
There are no approved quotes yet for this movie.