Manon of the Spring (Manon des Sources)
(1987)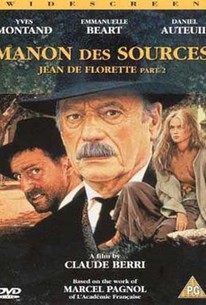 Manon of the Spring (Manon des Sources) Photos
Movie Info
Manon of the Spring (Manon des Sources) has also been released as Jean de Florette II in the US, as it is a sequel to Claude Berri's Jean de Florette. Both films are drawn from the same source: Filmmaker/novelist Marcel Pagnol's 1952 rural romance, also titled Jean de Florette. Manon (Emmanuelle Beart), now fully grown, is a shepherdess who prefers to keep her distance from the local villagers. She is determined to uncover the truth behind the death of her father (played by Gerard Depardieu in Jean de Florette) and to wreak vengeance on the men she holds responsible. The more sympathetic of the two men, Ugolin (Daniel Auteil), is in love with Manon, but this does not weaken her resolve. She causes the village's water supply to diminish, blaming this action upon Ugolin and his duplicitous co-conspirator Cesar (Yves Montand). The upshot of this vengeful behavior ends in tragedy for all concerned. The joint winners of eight French Cesar awards, Jean de Florette and Manon of the Spring were released to the U.S. in tandem in 1987.
Critic Reviews for Manon of the Spring (Manon des Sources)
Audience Reviews for Manon of the Spring (Manon des Sources)
½
It is frustrating that Manon is such a weak and poorly-written character, which makes her "revenge" feel much less deserved, even though the film unfolds like a true Greek tragedy and is able to move us with a touching ending and the strength of Yves Montand's performance.
Carlos Magalhães
Super Reviewer
½
Raves for the prior film, Jean de Florette. This film, however, is bizarre and unsettling. Story is nowhere near as brilliantly conceived or beautiful. Seems like a straight-to-video bit of billingsgate rushed to market by a slasher film director. I give it a "M'eh".
Christian C
Super Reviewer
Poetic, endearing, heartbreaking. the second part of Jean de Florette's tragedy deals with the consequences of the greed and hypocresy shown among the villagers in the first part and how it affects their lives. Some surprising things come up as well. I never thought that not only the characters, but myself as well, would all be changing our indignation and contempt for forgiveness.
Pierluigi Puccini
Super Reviewer
Manon of the Spring (Manon des Sources) Quotes
| | |
| --- | --- |
| Priest: | I'll now speak to this unknown criminal if he exists. To him I say, "My brother there's no sin that cannot be atoned for by sincere repentance." Our Lord Jesus Christ said this astounding phrase, "there is more room in Heaven for one repentant sinner than for 100 self-righteous men." Whatever your offense, try to make amends. |
| Priest: | I'll now speak to this unknown criminal if he exists. To him I say, my brother there's no sin that cannot be atoned for by sincere repentance. Our Lord Jesus Christ said this astounding phrase, 'there is more room in Heaven for one repentant sinner than for 100 self-righteous men.' Whatever your offense, try to make amends. |
| | |
| --- | --- |
| Priest: | The biggest crimes often escape human justice, but God knows them all. |