Man's Best Friend
(1991)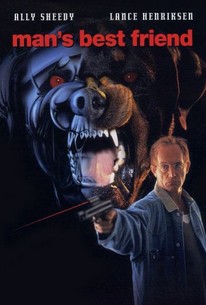 Movie Info
A reporter (Ally Sheedy) sneaks into a lab to investigate animal cruelty, and emerges from the ordeal with a mastiff named Max in this 1993 thriller. The dog, which has been genetically enhanced, makes her life miserable while they are being chased by the owner of the lab (Lance Henriksen).
Critic Reviews for Man's Best Friend
Audience Reviews for Man's Best Friend
½
This film is listed as a black comedy? well I guess some of the effects are now amusing sure. The plot is one that is sure to get emotions high, its all about medical experiments on animals by some mad/sadistic doctor who is trying to create the prefect super dog, and nothings gonna get in his way. This means there are lots of sequences with animals shown locked up, experimented on, being captured etc...all the things that would make most animal loving people squirm uncomfortably. On the flip side because the film is based around a dog there are also some cringing soppy moments although we're not talking 'Beethoven' type soppiness. The plot is basically a 'Terminator' 'Jaws' mixed idea but for a dog. The huge hound prowls around the neighbourhood getting up to no good like killing the postman, eating a cat whole, eating a parrot whole and half killing another dog by screwing it good n proper. The effects now are laughably bad with hokey puppets and a silly 'Terminator' style focusing eye close up from time to time. Although I must admit they do well to get the dog to look menacing at the right moments, but he's a cute big fella really. The whole thing is totally dumb and looks poor today, its reasonably amusing just to see Lance Henriksen do his wide eyed crazy villain thing which he does so damn well. The ending 'twist' is sooooooo predictable but I'm glad they never made another as the whole notion is just stupid. A good example of this is the sequence where the dog camouflages itself like a chameleon would, riiiiiight.
Phil Hubbs
Super Reviewer
In the style of Cujo, Man's Best Friend is a killer dog film that blends Sci Fi horror and nature gone wild elements. This is a good little horror film that is much better than what most critics have claimed it to be. Famed horror actor Lance Henriksen plays Dr. Jarret a scientist who works in a lab that uses DNA splicing to create superior animals. Max 3000 is the latest creation that Jarrett has been working on, a one million dollar prototype of the ultimate guard dog, faster, smarter, and deadlier. When a news reporter sets him loose, the killing starts. The script is peppered with tongue in cheek moments and there's plenty of good material to make this one entertaining ride from start to finish. If you can get by the sheer ridiculousness of the idea, this is one pleasant piece of low-budget horror cinema that is sure to give a good viewing experience to genre fans. Cujo will always be the superior killer dog feature, but this is one still has plenty of tricks to make it worth seeing. Don't expect any seriousness with this one, just sit back, relax and let the unintential humor kick in. For what it is, the idea is good and it works fine as a B movie. The cast are enjoyable and they give some surprising performances, as usual the highlight is Lance Henriksen and he is what makes the film what it is. This is a creative horror outing that delivers a fun hour and a half viewing experience. Just don't go expecting a great movie with this one. Man's Best Friend is a worthy addition to the nature gone wild genre and it delivers plenty of amusing thrills and is able to overcome its flaws by being a mindless horror yarn, which it does very well.
Competently done, but mostly very silly. Except for the dog rape scene. Dog rape should always be taken very seriously. As should the scene where the dog eats a cat like a duck (without swallowing).
Ken Stachnik
Super Reviewer
Man's Best Friend Quotes
There are no approved quotes yet for this movie.