Mansome
(2012)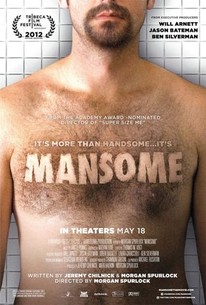 TOMATOMETER
AUDIENCE SCORE
Critic Consensus: Mansome is a threadbare documentary with little insight into modern male maintenance, with useless celebrity interviews padding an already slim runtime.
Movie Info
From America's greatest beardsman, to Morgan Spurlock's own mustache, Executive Producers Will Arnett, Jason Bateman and Ben Silverman bring us a hilarious look at men's identity in the 21st century. Models, actors, experts and comedians weigh in on what it is to be a man in a world where the definition of masculinity has become as diverse as a hipster's facial hair in Williamsburg. The hilarious follicles of men's idiosyncratic grooming habits are thoroughly combed over as men finally take a long hard look in the mirror. -- (C) Official Site
News & Interviews for Mansome
Critic Reviews for Mansome
Audience Reviews for Mansome
½
Although the male grooming topic is potentially intriguing (including mustache obsessions, metrosexuals, and competitive beard growing), there is no real focus through the divergent subtopics. Told with humor and a bit of satirized machismo, the documentary is lighthearted and does not offer any significant insight into deeper issues such as male insecurities with body image or cultural pressures on the modern American man. It's pure fluff: light, pleasant and unmemorable. As a "documentary", it's flimsy and undeserving.
Christian C
Super Reviewer
Morgan Spurlock, Will Arnett, and Jason Bateman explore men's grooming and its relationship to masculinity. What Mansome could be is an examination of masculinity in modern day pop culture, post-feminist movement. In fact, it could be the documentary version of all the strengths of Brief Interviews with Hideous Men. But instead its reliance on extreme reactions to male hair and its profile of a modern-day fop do little to deliver any salient cultural criticism. What emerges are the outliers of our society -- a man with a massive beard and a man who spends more time preening than most birds -- and I finished the film learning nothing new about the macrocosm and learning only dismissible factoids about the microcosm. Overall, Mansome, considering its wealth of talent, doesn't live up to its potential.
Jim Hunter
Super Reviewer
½
One of the newer efforts from semi-sterling documentary director Morgan Spurlock, Mansome is certainly one of his lesser efforts, reflected in its universal panning from critics and nearly invisible release. Though the description of the film is about the view of masculinity and possibly how men are perceived in society, it doesn't delve quite deep enough to do anything new or interesting. It touches upon things that are of interest, but overall it's trite and lazy. Instead of really looking into the Adonis factor or exploring the view men have of their place in the world, the film looks at different facets of the male appearance. Sections break this film up, including parts about beards, mustaches, and grooming, which circle each other, overlapping time and again. Celebrities lend their support with interviews on subjects that mostly cover facial hair. Jason Bateman and Will Arnett executive produced and star in this venture, turning up in bit parts throughout to lend their own opinions on these subjects while getting pampered at a spa. This tidbit of film is inane and makes it even more difficult to take anything Spurlock is pitching us, reliable. Though Spurlock has comically covered topics such as product placement, consumerism, and political hubris with ease, here there is little to find funny. Unless you find men being effeminate or rocking a styling do it's really a desert wasteland. The only section of the film that holds any interest is when they veer away from macho beardsmen and focus on a Sikh metrosexual who gets constant cosmetic touchups and cares quite a bit about his appearance. His backstory and choices, which he explains in depth, are the only part of this film that focuses on other men, or men that aren't happy to chime in with dullard opinions on masculinity. Though it's not a perfect film, I did find aspects of it engrossing, especially when Spurlock focuses on these men as a whole, not just what they can make funny for the film.
Spencer S.
Super Reviewer
Mansome Quotes
There are no approved quotes yet for this movie.