The Marc Pease Experience
(2009)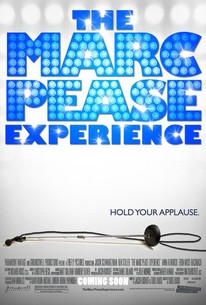 The Marc Pease Experience Photos
Movie Info
Ten years after graduation, a former high school musical superstar who insists on living in the past discovers that there's more to life than the bright lights of Broadway as his former teacher and mentor prepares for a particularly chaotic opening-night performance. Jason Schwartzman and Ben Stiller star in a comedy co-scripted by Jacob Koskoff and director Todd Louiso.
Critic Reviews for The Marc Pease Experience
Audience Reviews for The Marc Pease Experience
½
absolute waste of time why ben stiller put he's name to this is beyond me.
Brendan O'Connor
Super Reviewer
The Marc Pease Experience is a typical underdog story with the atypical Schwartzman at the helm, producing a unique adventure into the life of what appear to be normal people. Without Stiller, Marc Pease would truly feel like the low budget film that it is, but with the star power Marc Pease comes off more like the film Election, with Matthew Broderick and Reese Witherspoon. Regardless of what draws you to the film, The Marc Pease Experience remains a solid little comedic production.
Christopher Haskell
Super Reviewer
½
"Okay, here's what you don't understand: things just don't stay the same. Not on their own they don't. It's like grandma used to say: "If you leave the door wide open, everyone's just gonna walk right out." Just like Rob Gentry did!" Former high school musical star, Marc Pease, finds himself still living in the past, eight years after graduating.
REVIEW
Often compared to Rushmore but is not exactly on the same level of Wes Anderson's earlier masterpiece, The Marc Pease Experience hits a couple of high notes with a playful Ben Stiller with the killer mane and Jason Schwartzman as Max Fisher-lite playing teacher and student respectively, Anna Kendrick also stars. The script is passable, its peppered with funny moments but fails to maintain its hilarity the whole way. The movie hits its high point when Jason's character Marc Pease serves as proxy to an injured performer and kills it with the closing musical number for "The Wiz". Funny moments here and there but didn't exactly find its rhythm, The Marc Pease Experience is a watchable treat for those looking for a good night's chuckle.
Lorenzo von Matterhorn
Super Reviewer
The Marc Pease Experience Quotes
There are no approved quotes yet for this movie.