Margaret's Museum
(1995)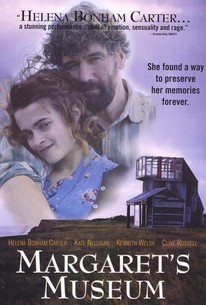 Movie Info
The often tragic lives of the residents of a Nova Scotia coal mining town are viewed through the eyes of a depressed young woman in this grim period drama. Set in the 1940s, the film begins with a brief, intentionally puzzling interlude before flashing back several years to focus on the story of Margaret MacNeil (Helena Bonham Carter). Margaret has suffered through the death of her father and her brother, both of whom perished while working as coal miners, and has subsequently developed a hatred for the mines that provide the town's primary source of economic support. When she finds herself attracted to charming stranger Neil (Clive Russell), she is thrilled to learn that he has no plans to work in the mines. When Margaret and Neil marry over the opposition of Margaret's stern mother (Kate Nelligan), financial troubles force him to go back on his word, with unfortunate results. Based on several short stories by Sheldon Currie, the film draws an unrelentingly bleak picture of its subject, concentrating on the numerous hardships, from black lung to deadly cave-ins, that haunt the coal-mining community, resulting in a gloomy and at times morbid drama.
Critic Reviews for Margaret's Museum
All Critics (6) | Top Critics (2) | Fresh (4) | Rotten (2)
Margaret's Museum is one of those small, nearly perfect movies that you know, seeing it, is absolutely one of a kind.

Impressive Canadian film about a young woman's expression of righteous indignation.
Audience Reviews for Margaret's Museum
I'm probably over-rating this because it's among the better Canadian movies I've seen... I wouldn't think it stacks up with other movies I've given four stars to, but I'm glad I gave it a chance. Compelling love story and a wonderful performance by Helena Bonham Carter.
Daniel Perry
Super Reviewer