Margot at the Wedding
(2007)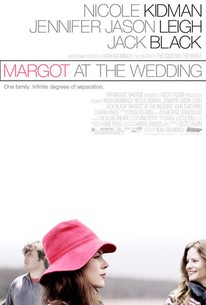 Margot at the Wedding Videos
Margot at the Wedding Photos
Movie Info
Margot Zeller, a savagely bright, razor-tongued short-story writer who creates chaos wherever she goes, sets off on a surprise journey to the wedding of her estranged and free-spirited, unassuming sister Pauline. Margot, with her all-too-rapidly maturing son Claude in tow, arrives with the gale force of a hurricane. From the minute she meets Pauline's fiancé--the unemployed artist Malcolm--Margot starts to plant seeds of doubt about the union. As the wedding approaches, one complication crashes into the next: vengeful neighbors, a beloved tree in the backyard and Margot's own marital turmoil. The two sisters, find themselves at the precipice of an unexpected transformation ultimately revealing that even when your family is about to implode, the one thing you can cling to for solace and comfort is your imploding family.
Critic Reviews for Margot at the Wedding
Audience Reviews for Margot at the Wedding
½
In its first half, it is amusing to laugh at the expense of how far these people can go in being obnoxious, but later on it appears that what Baumbach really wants is to defy us to endure a gallery of despicable characters till in the end it has become nearly insufferable to watch.
Carlos Magalhães
Super Reviewer
½
I usually like Noah Baumbach's dialogue so much that I'm able to overlook his films' meandering pace and unlikeable characters. I could not forgive this one, however, both because the dialogue isn't as consistently sharp and because the overall structure is unmercifully dull. Though Jack Black's show-stealing performance reaffirms Baumbach's ability to maximize the humor he can get out of his misanthropes, the same is not true for the anti-hero played by Nicole Kidman. She plays her role efficiently, but gives absolutely no humanity to the part as Black does, and as Jeff Daniels and Ben Stiller have in the writer/director's other, better films.
Sam Barnett
Super Reviewer
This film is in my favorite genre: dark humored, pointless, character driven films. Noah Baumbach is one of my favorite writer/directors, and in this story of a strung out writer at her sister's wedding and all the family dysfunction that goes along with it, the film writes itself with its strong characters and gritty pretense. The storyline isn't all too original, but the performances from these actors are driving, unflinching, and realistic. Nicole Kidman has never been so unlikable and flighty as she is in this film. She is narrow minded of her sister, who is marrying a dilettante (Jack Black) who Margot deems unfit for her. There is also a sensitive past between the two sisters and their family, intensified by the fact that Margot's sister (Jennifer Jason Leigh) currently lives in the old family house. There is a bitter honesty between the siblings but also a kind of magic realism, as their lives are slowly unearthed to one another after all these years. Kidman especially stirs the pot between the factions of the family with her commentary on her sister's fiance, their past, and the fact that all her writing is autobiographical and has ruined her sister's first marriage, alienated her from her family, and caused a rift in her own marriage, also caused by an affair with an egotistical ass. What is really striking about these interrelationships is that of the children, especially Margot's son, who she repeatedly self-diagnoses as having Asperger's and when she wants to be nice describes him as an artistic soul. Her son seems spoiled, yet that may seem the case because he speaks of things he knows little about with his cousin and family friend, but when he speaks to his mother she either undermines what he thinks and feels as childish blather, or intellectual hierarchy supplemented by her own particular parenting style. Even though it is strangely pointless throughout, I think the ending is supposed to be uplifting, as Margot is trying to stop her reckless behavior and reconnect with her family. Still, there is nothing pseudo intellectual about this character study or bombastic from Jack Black's performance as the light comedy. It has some simple realism, but really it's about family, and the lengths we go to protect ourselves from the only people who know us best.
Spencer S.
Super Reviewer
Margot at the Wedding Quotes
There are no approved quotes yet for this movie.