Marie Galante
(1934)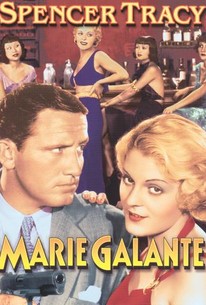 AUDIENCE SCORE
Critic Consensus: No consensus yet.
Movie Info
Movie newcomer Ketti Gallian plays Marie Gallante, who is abducted by a most ungallant drunken sea captain. He leaves her stranded in Yucatan, where she gets a job as a cafe singer in hopes of paying her way to the Panama Canal zone. While en route, she meets the two-fisted Crawbett (Spencer Tracy), who unlike most of the other men she's encountered believes the kidnapping story. Crawbett, a secret agent, comes to Marie's rescue when she gets inadvertently mixed up in a plot to sabotage the Canal. His job done, Crawbett decides to stick around in Panama for a while when he falls in love with Marie. Based on a novel by Jacques Devel, Marie Gallante was intended to make a star out of Ketti Gallian, but it was the reliable Spencer Tracy who attracted the crowds and earned the critical plaudits. Elements of the film's plotline would later resurface in the 1940 programmer Charlie Chan in Panama.
Critic Reviews for Marie Galante
Audience Reviews for Marie Galante
Average drama with a leading lady who doesn't register well on screen but then Helen Morgan saunters into the scene and starts to sing and POW! the movie is alive. Unfortunately that only happens a few times throughout the picture. Tracy is compelling as always but this is a meager film.
Marie Galante Quotes
There are no approved quotes yet for this movie.