Mark of the Vampire
(1935)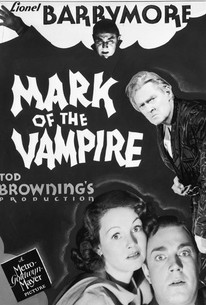 Mark of the Vampire Photos
Movie Info
When several new residents of a small Czechoslovakian village are menaced, seemingly by a pair of vampires, a detective and a vampire expert are called in to investigate. This remake of the 1927 silent chiller London After Midnight reunites Dracula director Tod Browning and star Bela Lugosi.
Critic Reviews for Mark of the Vampire
Audience Reviews for Mark of the Vampire
wonderful gothic atmosphere but there's an odd tone to the film and you'll soon discover why. i still can't decide if the ending is clever or just ridiculous. not browning's finest hour but worth seeing
Stella Dallas
Super Reviewer
Godawful script (due, at least in part, to the numerous scenes that were never shot and a number of others which did not make the final cut) is somewhat redeemed by some decent atmosphere, a spectacular sequence (with some very impressive special effects) and a very creepy performance by Mr. Lionel Atwill. Is this a remake of "London After Midnight"?
Ultimately disappointing vampire story, whose only saving grace is Carol Borland, who really spooked me in her role as the female vampire.
Mark of the Vampire Quotes