Marked for Death
(1990)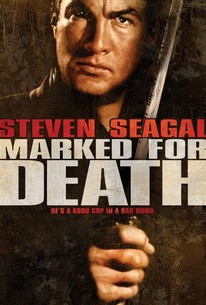 Movie Info
In Marked for Death, Steven Seagal is told to "try to find the gentle person inside yourself." But he doesn't spend too much time looking, preferring instead to crack the spines of his victims. Seagal plays John Hatcher, a burned-out narcotics agent who resigns from the Drug Enforcement Administration after his partner is killed. He returns to his hometown and finds the city in the thrall of a vicious Jamaican drug gang, led by the nasty Screwface (Basil Wallace). He meets an old friend, now a high school football coach, who tells John about losing his best player and his 13-year-old nephew to drug overdoses. Soon John's family is threatened and his prize Mustang stolen, so John joins forces with his buddy to take on Screwface and the drug gang themselves.
Critic Reviews for Marked for Death
Audience Reviews for Marked for Death
Steven Seagal was the man back in the hey day of mindless action movies, and this one was an interesting change from the usual cop thrillers. Seagal play a retiring DEA agent, having had enough of the drugs and evils of his job, so he quits, makes his confession and gos back home to recuperate and forget about it all. The problem is, the Rastafarian gangs are taking over, taking drug dealing to a whole new level with provocative violence and stir crazy mythology, led by the psychotic Screwface, a supreme being amongst his men and feared by everyone. When Seagal interferes in a nightclub shootout, he and his family are cursed and marked for death by the gang, so its time to kick ass of course! Anyways, what i liked about this movie was the change of pace and the bad guys, the Jamaicans are a scary bunch when hopped up on drugs and twisted immortality. Of course, there is a plot and background to the story, but it disappears in the first half when Seagal loses his cool and declares war on the gangs. Action, things that go BOOOM and a pretty hectic car chase which ends with a nice jump into a jewelery story, and finally the showdown at the end which consists of a duel with swords. Anyways, the only problem you will face is understanding what the rastas are saying. I was alright with it, but hell it took me time to fully understand a rasta accent and language, so subtitles will help heaps. XD Anyways, another 90's action flick, and Seagal is smooth as usual. It even has a great scene in the crappy script, where Seagal meets his partner after killing one guy and watching a Rasta jump out a window to his death.... "One thought he was immortal and the other thought he could fly. Both were wrong." XD
Seagal in his typical "good guy cleaning up the streets from drugs" role, but this time it's against Jamaicans. Not his best role, this movie is disappointing and even throws in a twin brother for good (?) measure. It's unlike Seagal's other movies around this time, but not as bad as his later ones. Nice to see Keith David in this, though. He's an incredibly underrated actor.
Derek Daniels
Super Reviewer
Seagal, Voodoo, I like it.
Lenny Muggsy
Super Reviewer
Marked for Death Quotes
| | |
| --- | --- |
| John Hatcher: | One thought he was invincible... the other thought he could fly. |
| | |
| --- | --- |
| Screwface: | Everybody want heaven--nobody want dead! |