Marked Woman
(1937)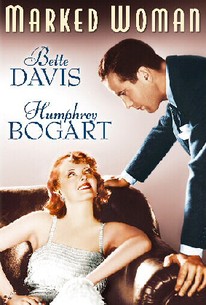 Movie Info
Bette Davis' famous walk-out from her home studio of Warner Bros. may have hurt her financially, but in the long run it paid off with bigger parts in better films. Like many Warners films of the period, Marked Woman was "torn from today's headlines." Specifically, it was inspired by the recent downfall of gangster Lucky Luciano, who at one time controlled all prostitution activities in New York. The ladies herein are euphemistically characterized as "night club hostesses," but when Luciano look-alike Johnny Vanning (Eduardo Cianelli) shows up at a fancy clip-joint to give the girls their marching orders, the audience can tell exactly what's going on. Been-there-done-that hostess Mary (Davis) is no better than she ought to be, though she has a definite code of honor; she stands up to the dictatorial Vanning at every opportunity, fending of his amorous attentions and seeing to it that her "over the hill"colleague Estelle (Mayo Methot) is retained on the gangster's payroll. At the same time, Mary tries to shield her seedy profession from her virginal sister Betty (Jane Bryan), but the girl discovers the truth and becomes a "B"-girl herself, a rash move that results in her death. Previously frightened into silence by periodic beatings from Vanning's goons, Mary and four of her girlfriends become state's witnesses, providing testimony to crusading District Attorney David Graham (Humphrey Bogart, playing a character clearly patterned after Thomas E. Dewey). A last-ditch effort to permanently stifle Mary and her friends fails, and the ladies show up in court to put the noose around Vanning's neck.
Critic Reviews for Marked Woman
All Critics (5) | Fresh (5) | Rotten (0) | DVD (1)
Crime melodrama benefits from the usual hard-hitting Warners approach, good cast, and a shrewd look at class and the collaboration of the educated and uneducated.
Hard hitting Warner Bros. gangland drama with a dream cast.
August 11, 2003 | Rating: 4/5
Audience Reviews for Marked Woman
½
Despite the disclaimer at the start which says that the film is not based on any real event or persons, or that sort of thing, the film in fact actually is a fictionalized dramatization of an actual event. The film concerns a nightclub hostess who works for a high profile New York gangster. She gets into a sticky situation when she and her coworkers find themselves faced with a dilemma when they become involved in a trial that could put their boss away-if he doesn't "take care" of them first. The real life event that inspired this film was that of the testimony of a bunch of call girls during a murder trial who ended up exposing Lucky Luciano as a major figure in a prostitution ring, and putting him behind bars. Due ot the censorhip in place at the time in the film industry, the material had to be softened and the less savory parts likewise toned down, but the result is still a decent, if ultimately unremarkable period melodrama. I thought the film was okay, but it bugs me that the studio system was the way it was back then, because this material had the potential to be really powerful and effective, and if made today, the justice that the stroy deserves coudl be done, and wouldn't have to be as restricted (and the fake out disclaimer wouldn't be necessary either). But at least the film did do something major by showing the criminal world from the perspective of the victimized female- something rare for the day. Bette Davis gives a strong and fairly decent performance as the lead girl Mary, who plays the most pivotal role in the criminal case at the film's center, as it is her character who was with the victim hours before his death, which came at the hands of her employer. In a rare good guy turn (for the time, that is), Humphrey Bogart sheds his typecast label as a thug or heavy and puts in good work as the stern, yet sympathetic prosecutor David Graham. All in all, this is a decent enough melodrama. It's not really all that memorable, and it is formulaic and predicatble, and it bugs me that the story was compromised, but the performances are fine, it's not boring, and it's refreshing to see an older film that shows women in good roles and from their perspective. Though, to be honest, some of the supporting women still come of as shrieking stereotypes, but Davis at least has a good role.
Chris Weber
Super Reviewer
A few friends and I are doing a Bette Davis retrospective, slowly working our way through all of Davis's films from the 1930s and 1940s. The biggest surprise so far is two relatively unknown films she did in 1937: "Marked Woman" and "Kid Galahad." Both are available from Netflix in pristine DVD pressings. They are an absolute delight and come highly recommended. They aren't great works of art, but they're two of the best traditional melodramas you'll ever see. The films have some similarity. In both, Davis plays a young woman from a lower-class background struggling to make a living in the criminal underground. "Marked Woman" is particularly daring, in that she plays a prostitute battling the mob kingpin for whom she works. It's a stark and tough work, conveying the sense that if one is born on the wrong side of the tracks, one is probably doomed to stay there the rest of one's life. The director was Lloyd Bacon, who also directed "42nd Street" a few years earlier. "Kid Galahad" is class-conscious but not quite so darkly. Davis plays sidekick to a crooked boxing promoter (Edward G. Robinson), and both are lower-class young people trying to survive as best they can. Robinson's character is presented forthrightly as the child of immigrants. There is one long scene where he talks to his mother in fluent Italian, and there aren't any subtitles. This was a joy to see in a mainstream Hollywood movie. I can't imagine how much it must have meant to Italian audiences of that era. Davis's character falls in love with the new boxer they are promoting, whom she dubs Kid Galahad. Twenty-three-year-old Wayne Morris positively melts the screen as the boxer. In one of the most touching and non-actorly performances I've ever seen, the largely untrained Morris plays the character from his heart. His physical beauty (Rudy Valentino good looks and an Olympian body) is matched by his homespun kindness. You can feel Bette Davis falling in love with Morris in every scene they have together. Michael Curtiz, who would in later years bring us "Casablanca" and "Mildred Pierce," among many other films, directed "Kid Galahad." Coincidentally, Humphrey Bogart has a supporting role in both "Marked Woman" and "Kid Galahad," as does Jane Bryan. If you haven't seen a movie from Hollywood's golden era in a while, these are two titles that will surely not disappoint. Note on Davis: Nineteen thirty-seven was the year Bette Davis hit her stride. She first caught attention in 1934 for her Oscar-nominated tour de force in "Of Human Bondage" opposite Leslie Howard. She followed that up by winning the first of her two Oscars in 1935 for "Dangerous." By 1937, she was soaring, becoming a major box-office attraction. In 1938, she won her second and final Oscar for "Jezebel." It's hard to believe that an actor of her stature would only win two Oscars (out of 11 total nominations). But then again, Meryl Streep has only won two (out of a total 16 nominations).
William Dunmyer
Super Reviewer
This reminded me a lot of On the Waterfront, the stories are very similar. I love On the Waterfront, but this movie was good too. Whats different about it is that it focuses more on the fact that women should stand up for themselves when men are pushing them around. It's really pretty feminist for the thirties. Plus it stars Davis and Bogart, so if you're a fan of either of them you wont want to miss this movie.
Marked Woman Quotes
There are no approved quotes yet for this movie.