The Marrying Kind
(1952)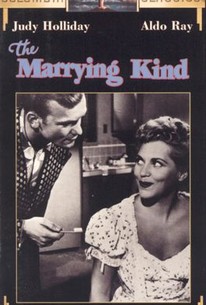 Movie Info
A master blend of comedy, domestic drama and sudden tragedy, The Marrying Kind remains one of the best collaborations between star Judy Holliday, screenwriters Garson Kanin and Ruth Gordon, and director George Cukor. The film begins at the end, with married couple Florence and Chet Keefer (Judy Holliday and Aldo Ray) seeking a divorce. Both parties state their cases before understanding judge Carroll (Madge Kennedy)--whereupon the story of their marriage unfolds in a series of revelatory flashbacks. After an amusing recap of their courtship days, the film details the many major and minor trials and tribulations of married life. In the film's most unforgettable sequence, one of the couple's children dies by drowning while Florence and Chet are obliviously engaged in one of their petty squabbles. Throughout the testimony, the Judge gives equal time to both parties, and in so doing demonstrates that all aspects of marriage work both ways. In the final scenes, the Judge allows the Keefers to reconsider their impending divorce, but not before offering a few understanding and unobtrusive words of advice. Judy Holliday is in top form, while Aldo Ray delivers what may be his finest performance. Featured in the cast as Ray's sister-in-law is Peggy Cass in her film debut.
Critic Reviews for The Marrying Kind
Audience Reviews for The Marrying Kind
An average romantic comedy for the fifties, with a predictable story and ending, it's not all that exciting or interesting except if you're a fan of someone in the cast.
½
Funny, sad and compelling drama featuring perhaps Judy's best performance.
The Marrying Kind Quotes
There are no approved quotes yet for this movie.