The Marrying Man
(1991)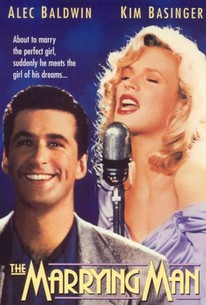 Movie Info
Neil Simon's screenplay begins in 1956 in San Francisco, where singer Vicki Anderson (Kim Basinger) is performing at one of the city's jazz clubs. Recognizing her voice from outside the club, a group of men go in to watch her perform; as they sit at their table, their de facto leader Phil (Paul Reiser) begins relating the tale of Vicki's rocky romance with his friend Charley Pearl (Alec Baldwin). Flashing back to 1948, the film finds toothpaste-heir Charley on the brink of marriage with Adele (Elisabeth Shue), the daughter of Hollywood big-wig Lew Horner (Robert Loggia). Before the wedding, Phil and the gang take Charley to Las Vegas for one last romp as a bachelor; there he meets Vicki, the casino-singer girlfriend of mobster Bugsy Siegel (Armand Assante). Immediately taken, Charley sets his sights on Vicki in spite of his pals' warnings; the couple goes back to her apartment to make love, but Bugsy has been tipped off and catches them in the act. As revenge, Siegel forces them to get married, and their picture makes all the papers. The marriage is quickly annulled, and even though Charley manages to patch things up with Adele and Lew, he sees Vicki again--and remarries her. After the death of his father, Charley takes over his toothpaste empire, and the couple moves to Boston; however, Vicki finds life there too smothering, and walks out. Years later, the couple meets again in Las Vegas and gives marriage a third try; at the expense of Charley's fortune, Vicki resurrects her showbiz career, but her success triggers their third break-up. Finally, the film jumps back to 1956, where Phil and the others greet Charley as he enters the club, again with the intention of proposing marriage to Vicki. And again, she accepts.
Critic Reviews for The Marrying Man
Audience Reviews for The Marrying Man
There are no featured audience reviews yet. Click the link below to see what others say about The Marrying Man!
The Marrying Man Quotes
There are no approved quotes yet for this movie.