Martyrs
(2008)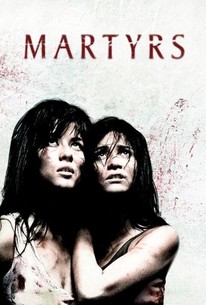 TOMATOMETER
AUDIENCE SCORE
Critic Consensus: A real polarising movie, this Gallic torture-porn is graphic, brutal, nasty and gruesome and not to everyone's taste.
Movie Info
Tells the story of Anna, once a missing little girl, found wandering a year later on a country road virtually catatonic after suffering some sort of physical abuse. She grows into a comely young woman, but she's got serious issues. She also has a close friend, Lucie, who she ultimately calls after she finds herself in an unusual house in the middle of the forest. There's something very disturbing about the Bauhaus-esque home, something Anna can't quite put her finger on.
Critic Reviews for Martyrs
Audience Reviews for Martyrs
This extremely disturbing and almost unwatchable exercise in extreme sadism is always gripping, given how it follows unpredictable directions at every moment until it reaches a surprising final act that demands too much from the audience for being so nihilistic and profoundly sickening.
Carlos Magalhães
Super Reviewer
'Martyrs' begins promisingly, telling the story of Lucie, a woman who escaped violent confinement as a child and has spent her life fighting the demons of her past whilst seeking those responsible for it. The film's exposition is undoubtedly entertaining with Lucie's first adult appearance (with a shotgun) being the highlight of the whole feature. As Lucie's plot, disappointingly, finishes by the films midpoint focus is then shifted to her long-term friend and partner in crime 'Anna'. From this point onwards 'Martyrs' sadly becomes pseudo-philosophical drivel in an attempt to give itself meaning and mask its little substantial intrigue. Alongside this the film often feels boring in moments and struggles with its shallow antagonists and missing direction. Overall it feels as if 'Martyrs' lost it way when it turned to Anna, and, although I truly enjoyed a few scenes I can't help but feel as if they would of worked better in a something less dishonest.
Cameron Sherwell
Super Reviewer
A young woman tormented by the psychological damage inflicted upon her by sadistic kidnappers seeks revenge with the aid of a childhood friend. Martyrs begins with quite an interesting premise; Mylene Jampanoi's damaged abuse victim is by far the most interesting character in the film and the first half of the story which centres around her state of mind and her friend's uncertainty as to her sanity is very intriguing. But being a "horror" movie, cue the half-baked twist and it degenerates into yet another repulsive torture-thon, the piss weak Outer Limits excuse for which is feeble even by the standards of the genre. Quite why anybody - women in particular - would find entertainment in watching a young girl being mutilated and brutalized I have no idea, but this so-called horror is just yet more tasteless, unpleasant torture porn with pretensions.
Martyrs Quotes
| | |
| --- | --- |
| Lucie: | What do you have to do to stop being afraid? |
| Anna: | I think you have to let yourself go. |
| Lucie: | You think so? |
| Anna: | Let oneself go. |
| Lucie: | If I can't do it, will you be there for me? |