Mary Poppins Returns
(2018)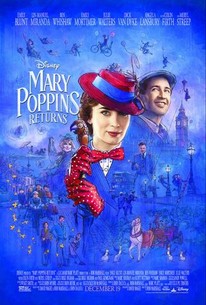 TOMATOMETER
AUDIENCE SCORE
Critic Consensus: Mary Poppins Returns relies on the magic of its classic forebear to cast a familiar -- but still solidly effective -- family-friendly spell.
Mary Poppins Returns Videos
Mary Poppins Returns Photos
Movie Info
Directed and produced by Rob Marshall, "Mary Poppins Returns" also stars Lin-Manuel Miranda, Ben Whishaw, Emily Mortimer and Julie Walters with Colin Firth and Meryl Streep. The film, which introduces three new Banks children, played by Pixie Davies, Nathanael Saleh and newcomer Joel Dawson, also features Dick Van Dyke and Angela Lansbury. The film is set in 1930s depression-era London (the time period of the original novels) and is drawn from the wealth of material in PL Travers' additional seven books. In the story, Michael (Whishaw) and Jane (Mortimer) are now grown up, with Michael, his three children and their housekeeper, Ellen (Walters), living on Cherry Tree Lane. After Michael suffers a personal loss, the enigmatic nanny Mary Poppins (Blunt) re-enters the lives of the Banks family, and, along with the optimistic street lamplighter Jack (Miranda), uses her unique magical skills to help the family rediscover the joy and wonder missing in their lives. Mary Poppins also introduces the children to a new assortment of colorful and whimsical characters, including her eccentric cousin, Topsy (Streep). The film is produced by Marshall, John DeLuca and Marc Platt. The screenplay is by David Magee based on The Mary Poppins Stories by PL Travers with Marc Shaiman and Scott Wittman writing all new songs and Shaiman composing an original score.
Critic Reviews for Mary Poppins Returns
Audience Reviews for Mary Poppins Returns
½
Disney's 60s beloved classic - stolen from its dumbstruck creator, who was then vilified by the thief - gets an update for a new generation. "Magic is real" it suggests ("we NEVER said that," wink, wink "pish posh!"), just as the first one did, with plenty of Brit music hall style numbers stomping throughout, and hidden bits of sneaky mementos liberally sprinkled for the Boomers who saw it the first time around to secretly find. Only this time, given modern times, Poppins curiously spends a great deal of time in the mirror. The tradition continues then if traditions are simply that which we do more than once, setting the stage, as it were, for more to come. Rousing.
Kevin M. Williams
Super Reviewer
The magic of the original film gives place to mostly lifeless Broadway-esque spectacle - unfocused, repetitious and with songs that pretty much sound all alike. Besides, Emily Blunt doesn't have the presence and charisma that the character requires, and her Mary Poppins can be really annoying.
Carlos Magalhães
Super Reviewer
Many people believe movies from years ago don't seem to age well, but I've never bought into that notion. Personally, if it doesn't hold up in terms of today's standards, then it simply deserves to be called a product of its time. Mary Poppins has become that for me. I love watching the original film, but even I have to admit that being released over 50 years ago is a bit of a stretch when you hope something holds up. In the early days of visual effects, it truly shot for the stars, and for its time, there is no denying that. I had high hopes for this 2018 sequel in Mary Poppins Returns, due to the fact that movies have endless possibilities in terms of visual effects nowadays. In short, this is a movie well-worth making, but I don't quite think it will be among everyone's favourites of the year or anything like that. Picking up many years after the original, Mary Poppins Returns sees the return of the classic (titular) character as she once again arrives to serve the Banks children. Now fully grown with children of their own, Michael has been taking care of his kids with his sister Jane after the passing of his wife. Arriving just on time to relieve some stress from Michael, Mary Poppins becomes the new nanny to these children, taking them on fantastically fun adventures. Filled with great musical numbers and cameos that would brighten anyone's day, this is a late sequel that definitely deserved the spotlight. That being said, this movie isn't perfect in my eyes. Disney films have begun forming this new formula that seems to string across many of their franchises lately. I'm not saying I dislike this, but the similarities are a little too familiar, to me at least. The original cast has grown up and the film is passing the baton to the newer generation. That's definitely one way of continuing your franchise, but that can't be done again decades from now, because it'll probably just feel tired. I could be wrong about that (which I have been many times), but that's just how I see it. Where this movie undeniably steals everyone's hearts is in its cast and overall atmosphere. With a few casting changes, this movie could've been a disaster, but not this time. To start, I've always been a fan of Emily Blunt as an actress. I think she has tremendous talent and I was ready to call her one of the best of 2018 when I watched A Quiet Place at the beginning of the year, but that opinion has slightly altered. Mary Poppins Returns is the film that she's been destined to be cast in. Many people said that nobody could touch Julie Andrews, and while I wouldn't say her performance is better, it seems as though Julie Andrews came back through time and performed this character again. Emily Blunt is a true wonder on-screen here. From the incredible sequences involving Lin-Manuel Miranda to emotional moments involving Ben Whishaw and Emily Mortimer, everything about this film was impeccably cast. For that reason alone, I enjoyed this movie from start to finish. In the end, Marry Poppins Returns may not feature as many memorable songs and some may even seem like slight rehashes of the previous ones, but it's great for all ages to experience. From life lessons involving death in the family to just pure silliness in the land of cartoons, this movie provides everything that kids should be experiencing, all at once. If you're a fan of the original film or simply want to smile at the theatre, I definitely recommend checking out Mary Poppins Returns. This very late sequel was worth the wait. I don't believe it will be remembered as a classic in 20 years from now, but that shouldn't deter you for a second.
Mary Poppins Returns Quotes
There are no approved quotes yet for this movie.