Mary Queen of Scots
(2018)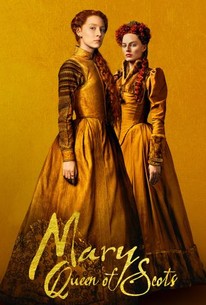 TOMATOMETER
AUDIENCE SCORE
Critic Consensus: Mary Queen of Scots delivers uneven period political thrills while offering a solid showcase for the talents of its well-matched leads.
Mary Queen of Scots Videos
Mary Queen of Scots Photos
Movie Info
"Mary Queen of Scots" explores the turbulent life of the charismatic Mary Stuart (Ronan). Queen of France at 16 and widowed at 18, Mary defies pressure to remarry. Instead, she returns to her native Scotland to reclaim her rightful throne. But Scotland and England fall under the rule of the compelling Elizabeth I (Robbie). Each young Queen beholds her "sister" in fear and fascination. Rivals in power and in love, and female regents in a masculine world, the two must decide how to play the game of marriage versus independence. Determined to rule as much more than a figurehead, Mary asserts her claim to the English throne, threatening Elizabeth's sovereignty. Betrayal, rebellion, and conspiracies within each court imperil both thrones - and change the course of history.
Critic Reviews for Mary Queen of Scots
Audience Reviews for Mary Queen of Scots
½
While more effective when focusing on the royal intrigue than when trying to create a forced parallel between the two queens (in fact, the whole subplot involving Queen Elizabeth could be easily removed), this is a decent period drama that comes together quite well in the end.
Carlos Magalhães
Super Reviewer
Thinking about them just in terms of their visual appearnce, Saoirse Ronan probably should have played Queen Elizabeth I instead of Mary, and Margot Robbie probably should have played Not In This Movie. Perhaps it could have performed better, had it not come out the same year as both Outlaw King and The Favourite, as its content lies somewhere between the two, but its quality pales to either.
By no means a masterpiece, Mary Queen of Scots is an imperfectly paced, straightforward, and entertaining historical biopic of the kind that Hollywood used to crank out in previous decades. Movies centering around Tudor history have always been a mixed bag. For every Anne of the Thousand Days and A Man For All Seasons, you get The Other Boleyn Girl. Premium television appears to be the route to go for this kind of material these days, but occasionally a small budgeted picture such as this can eke out a small victory. Make no mistake. Mary Queen of Scots is the kind of period drama that critics dismiss, and general audiences ignore, but for different reasons. We have characters hitting the beats and bullet points of their historical counterparts, time displacement to fit a narrative, riders on horseback delivering messages, PG-13 sex scenes, and the usual gamut of British Commonwealth actors filling in as the minor cast. The reason to be here is our two main leads. Saoirse Ronan puts in a valiant effort as the titular doomed Queen. We can split hairs over whether or not Mary had a French accent or we can acknowledge that Ronan brings the haughty feistiness and naivete that historical Mary was said to possess. Margot Robbie is on fire these days and so is her Elizabeth I. She only appears in around a quarter of the picture, but she cuts a deep impression. The film posits a deep respect and admiration between the two feuding queens, which some have described as feminist. I will not evaluate that, but I usually subscribe to the idea that Elizabeth viewed Mary as either a threat or a pawn depending on the moment, as all Tudor monarchs viewed their rivals. That being said, I enjoyed the deviation, even if we got the overused inaccuracy of the two meeting in person in an abandoned shed, as ALL of these movies and shows tend to do. These two actresses are delightful to watch and you will put up with this movieâ(TM)s pedestrian storytelling to see more of them. Mary Queen of Scots does not add much to the medium of cinema, as the risquà (C) and avant-garde The Favourite managed to accomplish, but it succeeds as a middle-of-the-road biopic, ready-made for afternoon television and Netflix dates.
Joshua Sheetz
Super Reviewer
Mary Queen of Scots Quotes
There are no approved quotes yet for this movie.