Massacre
(1934)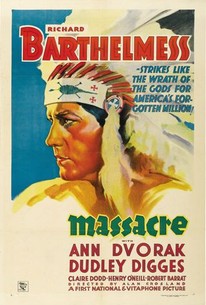 AUDIENCE SCORE
Critic Consensus: No consensus yet.
Movie Info
One of the first major Hollywood films to seriously address America's ongoing mistreatment of its Indian population, Massacre is more admirable for its intentions than its execution. The film was inspired by the activities of John Collier, commissioner for the Bureau of Indian Affairs during Franklin Delano Roosevelt's first term. A staunch advocate for Native American rights, Collier had been far more effective than his predecessors in this pursuit, effectively purging much of the corruption and bigotry then prevalent in the administration of the Indian Reservation system. The film's John Collier counterpart, a man named Dickinson (Henry O'Neill), turns out to be less important to the storyline than Joe Thunder Horse, the "assimilated" college-educated Sioux portrayed by Richard Barthelmess. Upon the death of his father, who was the tribal chieftain, Joe returns to the reservation of his youth, only to discover that his people are dying of various diseases and are being systematically cheated of their possessions and basic rights by crooked Indian agents. He heads to Washington in hopes of righting these wrongs, only to experience prejudice and hatred all along the way. Eventually successful in his efforts, Joe casts away the last vestige of his "white" existence by giving up socialite Norma (Claire Dodd) in favor of Sioux maiden Lydia (Ann Dvorak). The optimism of the final reels is sorely at odds with the rest of the picture, which paints a bleak portrait of an oppressed people under the thumb of corrupt, rapine petty tyrants (colorfully represented by Dudley Digges as the worst of the batch). The deck-stacking is a bit hard to take at times (surely there must have been some Indian agents who weren't substance abusers and lechers), but it's undeniably effective in the usual over-the-top Warner Bros. tradition. The film's oddest scene (and the one which has drawn the most attention from William K. Everson and other prominent film historians) finds a stereotyped African American valet (Clarence Muse) looking disdainfully upon the Indians as his racial inferiors!
Critic Reviews for Massacre
All Critics (2) | Top Critics (1) | Fresh (2) | Rotten (0)
Adapted from a novel by Robert Gessner, it adds up into an indignant crusade against the white man's treatment of [Native Americans].
A rare Indian film at the time that shows how unfairly they were treated by the white people.
Audience Reviews
There are no featured reviews for Massacre at this time.
Massacre Quotes
There are no approved quotes yet for this movie.