Master of the Flying Guillotine
(1975)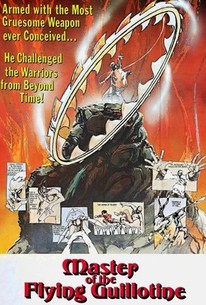 Master of the Flying Guillotine Photos
Movie Info
The One-Armed Boxer is a famous fighter who now runs a kung-fu school that teaches respect and discipline for the craft. A local lord is throwing a kung fu tournament for local schools and foreign specialists and the Boxer's students talk him into letting them go to the games with him. Meanwhile, a blind man of the Guillotine Family is in search of the One-Armed Boxer for revenge. It seems that his family was killed by the Boxer in the past and he has now perfected his family craft of throwing circular guillotines. After many fights. the blind man kills one of the competitors because he only has one arm. But it is not the One-Armed Boxer, and the two men must fight to the finish.
Critic Reviews for Master of the Flying Guillotine
Audience Reviews for Master of the Flying Guillotine
Well it is a bit to bizarre with someone getting choked out with hair and extending arms but it was still pretty badass. The final fight scene was between an old blind nazi and a one armed boxer, so it's out there. Some great Kung Fu choreography and it's well made. And even though one guys a nazi murderer you really don't know who to root for. My favorite part was the tournament itself though, actually really cool to see everyone's reaction, it was a great set of scenes.
Daniel Dolgin
Super Reviewer
½
Baddest old guy in a kung fu flick ever. Baddest weapon ever created. Indian guy that stretches his arms....i could go on and on.
Tsubaki Sanjuro
Super Reviewer
I feel like I've just been let it on a secret. One of the coolest, purest and craziest kung fu films ever made. The flying Guillotine is one of the most WTF weapons in the genre. Imagine a bladed bee keepers helmet on a chain and it's being wielded by a blind blood thirst monk on a revenge kick.
Ken Stachnik
Super Reviewer
Master of the Flying Guillotine Quotes
There are no approved quotes yet for this movie.