Masterminds
(2016)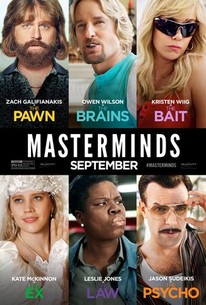 TOMATOMETER
AUDIENCE SCORE
Critic Consensus: Masterminds' great cast and stranger-than-fiction true story are largely wasted on a scattershot comedy with a handful of funny moments and far too much wackiness.
Movie Info
In this action comedy based on true events, directed by Jared Hess (Napoleon Dynamite; Nacho Libre), David Ghantt (Zach Galifianakis) discovers the true meaning of adventure far beyond his wildest dreams. He is an uncomplicated man stuck in a monotonous life. Day in and day out he drives an armored vehicle, transporting millions of other people's money with no escape in sight. The only glimmer of excitement is his flirtatious work crush Kelly Campbell (Kristen Wiig) who soon lures him into the scheme of a lifetime. Along with a group of half-brained criminals led by Steve Chambers (Owen Wilson) and an absurdly faulted heist plan, David manages the impossible and makes off with $17 million in cash...only problem is he foolishly hands the money over to this wild group of double crossers and has been set up to take the fall. With the bandits blowing the millions on lavish and ridiculous luxuries, they leave behind a glaring trail of evidence. Now on the lam and in over his head, David must dodge the authorities, evade a hilarious hit man, Mike McKinney (Jason Sudeikis), and try to turn the tables on the ones he trusted most. (C) Relativity
News & Interviews for Masterminds
Critic Reviews for Masterminds
Audience Reviews for Masterminds
½
I've been on a pretty good run of movies lately, out of the last 13 movies I've reviewed (this one included), seven of them have been rated 3.5 stars or higher. This is really an irrelevant anecdote, but it's one that I felt like pointing out since I can't remember the last time I went on a run of such high quality movies. Of course the other six films have all been below average, with the exception of one (Dig Two Graves which I enjoyed, but wouldn't call a very good movie). But I digress, moving on to this film, which falls into the average/below average pile. Here's the thing about Jared and Jerusha Hess, they've got a very specific style of indie quirk. Their biggest success is, obviously, the indie classic (depending on who you ask), Napoleon Dynamite. I don't think I've kept up enough with this husband/wife duo, but it seems to me that they've never replicated the success of their first feature film. And that's both creatively and financially, though Nacho Libre made close to three times its budget. Their next two films (Gentlemen Broncos and Don Verdean) were both major box office flops. I never finished Don Verdean, but I wasn't enthralled by what I did watch. I was never interested in Gentlemen Broncos or Napoleon Dynamite, so I can't speak on those. I did like Nacho Libre, sue me. This leaves us with Masterminds. And, quite frankly, this movie didn't do much for me. I think it's certainly a broader film than what Jared (since he only directed this and had no hand in writing the script nor did his wife) has made in the past. I gave this film a shot simply because I was actually legitimately interested in it. No other reason than that, not to mention the fact that I love all of the actors in this film. Kate McKinnon is a national treasure and she is just a tremendous comedic actress by any standard. Even though her role is minuscule in this movie, her scenes are, by far, some of the best moments of the entire film. On top of the cast, I was actually somewhat intrigued by the story and how it would play out, considering the characterization of David Ghantt as a well-meaning, but dim-witted man, who's in way over his head in executing this robbery of Loomis Fargo for a grand total of $17 million. I wondered how the film was gonna use all these different characters in order to tell this story. And, if I'm being honest, the movie just really misses the mark. I don't think it's a bad movie, I'd say it's average at best, but I just find that there's a lot of down time here. In between the scenes that move the narrative forward, there's really a whole lot of nothing going on. And, quite frankly, the story is never as interesting as it should be. I don't know what it is, but there's just something missing. I think the script focuses more on the big moments and not so much on the little ones, you know the ones where you actually develop the characters. Because David Scott Ghantt never amounts to much other than just a dimwitted, but well-meaning man who wears his heart on his sleeve. There's not much to the actual character other than that. There's not much to any character other than the initial impression they make upon you. And that's not to say that this film had to have super complex characters, but at least give us something just a little more interesting to invest ourselves in these people. To care about these people just a little more. The film depends a lot, like about 85% of it, on the cast. And they do their damnedest to elevate the script from dullness, but it's not like they're fucking miracle workers. The scenes that made me laugh 100% due to the actors and not because the writing was so clever. I think the best comedies offer a combination of both, witty dialogue and great comedic actors doing what they do best. This movie only has one of those and it falls flat on its face on the other one. This is a relatively short, I think it's 84 minutes without credits and gag reel, so it's not like it ever overstays its welcome. But, in a sense, I guess they kind of do. The scattershot nature of the comedy makes me wish that this had just been a 42-minute episode of an anthology series or something. There's no reason this should have gone double than length. It's so inconsistent that I can't really even recall any memorable scenes that didn't involve Kate McKinnon's character. It has its moments, for sure, I just can't remember many of them and that's just a shame, when this story had all the ingredients to make for an entertaining, albeit very silly, flick. It's still decent enough, but decent just won't cut it. This has to be another disappointment for fans of Jared (and Jerusha) Hess.
Jesse Ortega
Super Reviewer
The film has the moments but it's very scattered and lacking a lot clarity. The talent is vast and the direction is inventive but the story doesn't allow too much weirdness. Didn't deserve the bashing but also deserved a stronger focus, they seemed more focus on throwing money at it.
Brendan O'Connor
Super Reviewer
Honestly, once you get past the stupidity, this is s reasonably watchable comedy. I didn't think I would get through it as I can't stand Zach, but I was watching with others and didn't have the option of switching it off, which was what I would have done if I was alone. There's some slight amusement from the bad 90's outfits, particularly the photo shoot and the wedding dress, and the supporting cast are decent. But really, apart from a slight quirkiness, it's a pretty standard and disposable comedy, loosely based on a true story of a robbery. I didn't hate it or feel like I totally wasted my time, but it's not a must see either.
Nicki Marie
Super Reviewer
Masterminds Quotes
There are no approved quotes yet for this movie.