Masters of Horror
(2005)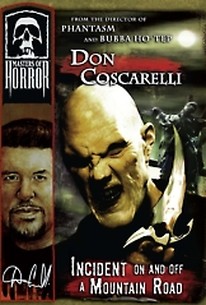 AUDIENCE SCORE
Critic Consensus: No consensus yet.
Movie Info
The Showtime series Masters of Horror opens with Phantasm director Don Coscarelli's Incident on and off a Mountain Road, based on a short story by Joe R. Lansdale, who also wrote the story on which Coscarelli's Bubba Ho-Tep was based. As the tale opens, Ellen is driving on the eponymous twisty and remote road in the middle of the night, when she takes her eyes off the road for a moment and plows into another car. Waking up a short time later, she goes to check the other car, and finds a trail of blood leading to the side of the road. She calls out to see if anyone needs help. It's soon apparent that someone does, and that someone is Ellen. There's a gruesome giant of a man (John De Santis) dragging another girl up toward the road, and Ellen quickly realizes that her life's in danger. She flashes back to the training she received from her boyfriend, Bruce (Ethan Embry), a survivalist who brought her to live with him in his cabin in the woods, and bullied her into learning how to defend herself. She runs into the woods, and sets a trap for the madman, injuring him, but this only seems to spur him on. Eventually, he catches up with Ellen and brings her back to his lair. There, she meets a demented elderly man in a wheelchair named Buddy (Angus Scrimm, the Tall Man from the director's Phantasm films), who explains that the madman must like something about her to let her live so long. Looking about the creepy abode, filled with the eyeless corpses of previous victims, Ellen can see for herself that her chances of surviving are not good. But she's determined to use everything Bruce taught her and get through this terrifying night.
Audience Reviews
There are no featured reviews for Masters of Horror at this time.
Masters of Horror Quotes
There are no approved quotes yet for this movie.