Masters of the Universe
(1987)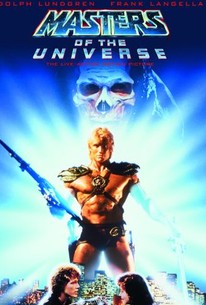 TOMATOMETER
AUDIENCE SCORE
Critic Consensus: Masters of the Universe is a slapdash adaptation of the He-Man mythos that can't overcome its cynical lack of raison d'etre, no matter how admirably Frank Langella throws himself into the role of Skeletor.
Masters of the Universe Photos
Movie Info
Dolph Lundgren stars in this live-action film version of the popular television cartoon series (based on a collection of Mattel action figures). Lundgren is He-Man, a well-muscled super-hero, battling the evil Skeletor (Frank Langella) for control of the universe. Skeletor has designs on conquering the planet Eternia, a ravaged utopia ruled over by the Sorceress of Greyskull Castle (Christina Pickles). He-Man is summoned to stop Skeletor's plans. But when the wily dwarf Gwildor (Billy Barty) utilizes his Cosmic Key, He-Man and Skeletor finds themselves transported to California. There, a waitress named Julie (Courteney Cox) and her boyfriend Kevin (Robert Duncan Mitchell) come across the Cosmic Key and become embroiled in the intergalactic battle between He-Man and Skeletor.
News & Interviews for Masters of the Universe
Critic Reviews for Masters of the Universe
Audience Reviews for Masters of the Universe
½
Oh my how delicious is this piece of 80's panto, some of the best badly adapted hokey nonsense I've seen, yet somehow its so damn good. Where to start! this really is your typical fantasy film of the era, every cliche every funny little niche is here as you would expect and the funny thing is it was actually meant to be a blockbuster. I have since found out there were many problems in creating this film and it does show some what, the film is really nothing like the original He-Man cartoon in any way. Effects wise this sorta stumbles through with some interesting ideas, some of the makeup is actually quite good, Skeletor, Beast Man and Saurod all have pretty nice makeup appliances and costumes which fit the He-Man universe. Other effects are laughably terrible with some awful bluescreen work, nasty models of which most seem ripped straight outta 'Star Wars', faded poor laser blast effects and some of the most hilariously bad stunts and fight choreography you will see. Most kicks and punches clearly (and I mean CLEARLY) don't make their intended contacts. The cast are actually a mix of decent character actors which is the funny thing, some of these performances saved the film and gave it cult status. Of course Langella as Skeletor is the co de gra of cheesy villains with his snarling voice and bellowing cries lusting for power. For me the best and most amusing performance was James Tolkan as the no nonsense cop Lubic with his sharp tongue, gotta love that guy and his baldness. Along for the ride is steady character actor Jon Cypher, fantasy actor regular Billy Barty, Meg Foster as the quite sexual Evil-Lyn in her lovely tight barbarian-esq outfit with luscious lips (oh yeah!) and last of all Courtney Cox, yes THAT Courtney Cox of 'Friends' fame and as you would expect she's still annoying as hell even back then. So yes the film is practically a joke with its Punch and Judy style and completely awful effects, fights etc...but it has gained a lot of notoriety for just that. Even when I saw this back as a kid I knew the film bared no resemblance to the original material, it always bewildered me why the creators thought to create new bad guys when there were so many rich villains to use, who the hell was Blade, Karg and Saurod suppose to be? where was Trap Jaw Tri-Klops Mer-Man or Man-E-Faces? the same could be said for the heroes also. Then there was the question of who on Earth were all these stormtrooper type foot soldiers clad in black armour that were an idea rip from so many films!?. I have since found out they were stuck in so He-Man could kill things without becoming too violent for the kids as He-Man wasn't suppose to kill. I can see that now but it still doesn't work right does it, I can't believe Lucas never sued frankly even with the almost identical ending to 'ROTJ'. Its funny to look back and laugh, even more so to think films like this actually made it to the cinema and were meant to be big money spinners. I actually love how the film just goes off on its own tangent completely ignoring the source material, its so far gone its brilliant in such a bad way. Gotta love Skeletor's golden coloured horned silver foil battle mask getup when he transforms at the end which seems to be a rip off from 'Big Trouble in Little China'! the way Tolkan swears oh and the fact Teela seems to be wearing a thin thong if you look closely as well, kids film?. Wanna give it a good score because its just so poor its good, but really I can't...end of the day it is purely shit.
Phil Hubbs
Super Reviewer
Always a little sad to see a childhood favorite not standing the test of time. That's not only due to special effects unworthy of their year of origin but also a pretty bumpy script. You gotta give the film credit for not taking itself all that seriously, but it is wasting said credit with stereotype dialogs and cardboard villains. Entertaining enough for kids at that time but after all those years nothing to write home about anymore, not even with plenty of 80s nostalgia bonus.
This film is absolutely hilarious. I was literally laughing out loud, by myself in the basement. There aren't words for this kind of exuberant ridiculous trash. It's got lines like: "You dare threaten her life?" "I DARE ANYTHING! I am Skeletor!" and a villain named Evillyn. Anyone who expects someone named Evillyn to do anything BUT mess with your day deserves exactly what's coming to them. Imagine, if you will, a film where Courtney Cox, running from extra-terrestrial, bounty-hunting monsters runs straight into the chest of... Fabio. Dolph Lundgren plays He-Man (or rather, as I came to learn, "Heehee!-Man") and spends the movie dressed like he's posing for the cover of a Viking-themed romance novel. I know this because I have read such novels, and they are as much fun as they sound. Oh my god, why am I not watching this movie RIGHT NOW?? Here is the secret formula for making giggly joy: Beefcake in underwear + Cape + Mullet = Hilarity!
Emily Armstrong
Super Reviewer
Masters of the Universe Quotes
| | |
| --- | --- |
| Sorceress of Castle Greyskull: | Men who crave power look back over the mistakes of their lives, pile them all together, and call it "destiny." |
| Sorceress of Castle Greyskull: | Men who crave power look back over the mistakes of their lives, pile them all together, and call it 'destiny.' |
| | |
| --- | --- |
| Sorceress of Castle Greyskull: | The dark can embrace the light, but never eclipse it. |
| | |
| --- | --- |
| Skeletor: | YES! LET THIS BE OUR FINAL BATTLE!!! |
| Skeletor: | Yes! Let this be our final battle! |
| | |
| --- | --- |
| Skeletor: | Everything comes to he who waits. And I have waited so very long for this moment. |