Match Point
(2005)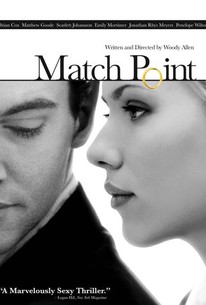 Movie Info
A clandestine love affair sends one man's charmed life into a tailspin in this dark, disturbing drama written and directed by Woody Allen, his first film set and shot in Great Britain and one his few films sans any humor. Chris Wilton (Jonathan Rhys-Meyers) is an Irish tennis player with an impoverished background. Just accomplished enough to make his way onto the professional circuit, but not skilled enough to be a consistent winner, he now works as an instructor at a London tennis club. The wealthy Tom Hewett (Matthew Goode), who is as impressed by Chris's charm and good looks as he is by his game, takes a tennis lesson from the young man. Chris's intelligence and wit also make a strong impression on Tom's pretty sister, Chloe (Emily Mortimer), who soon falls for him. It isn't long before Chris and Chloe are engaged to be married, a match that pleases both Tom and his father, Alec (Brian Cox), a successful businessman who believes Chris has a bright future in his firm. However, Chris also feels an overwhelming attraction to Nola Rice (Scarlett Johansson), a sexy blonde from the United States who is dating Tom. Though Nola initially puts up some resistance, Chris gently nudges her in the direction of an affair. Passion soon ignites between the two, and they have a one-time sexual encounter, even as Chris and Chloe plan their wedding. Nola resists, however, when Chris makes additional attempts to wheedle her into bed. Nola drops out of Chris's life shortly before his wedding, but a chance meeting a few months later resurrects the relationship as Chris and Chloe try to start a family. Match Point received its world premiere in an enthusiastically received presentation at the 2005 Cannes Film Festival. ~ Mark Deming, Rovi
Critic Reviews for Match Point
Audience Reviews for Match Point
½
Fascinating take on Dostoevsky's Crime and Punishment where Woody Allen... who am I kidding... Scarlett Johansson. That is all.
Jason Robinson
Super Reviewer
This film features what is probably my favourite Scarlett Johansson performance, darkly sexy, and the film takes full advantage of the emerging (at the time) actors in its cast, including Jonathan Rhys Meyers, Emily Mortimer and Matthew Goode. In addition to its noirish plot, there's an engaging story about social class that bubbles to the surface, and the movie's tone is consistent, amping up the drama of each successive action. Many called Match Point a return to form for Allen, (after his moribund late-90s), and I have to say, I agree; the hunger with which this film was produced shines through, leaving a primal document, in the end, with a climax that's (overused word alert) riveting... actually riveting. It's a film unlike pretty much anything else Woody has done... so even if you're not a fan, you should probably see it.
Daniel Perry
Super Reviewer
The opening sequence is probably one of the most philosophical ones director Woody Allen has created over the years. Its smart and stands apart from Allen's other films. For a different Woody Allen, congrats.
Match Point Quotes
| | |
| --- | --- |
| Chris Wilton: | The man who said "I'd rather be lucky than good" saw deeply into life. People are afraid to face how great a part of life is dependent on luck. It's scary to think so much is out of one's control. There are moments in a match when the ball hits the top of the net, and for a split second, it can either go forward or fall back. With a little luck, it goes forward, and you win. Or maybe it doesn't, and you lose. |
| | |
| --- | --- |
| Nola Rice: | He saw me across the room and he honed in on me like a guided missile. |