Matinee
(1992)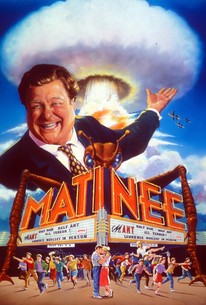 TOMATOMETER
AUDIENCE SCORE
Critic Consensus: Smart, funny, and disarmingly sweet, Matinee is a film that film buffs will love -- and might even convert some non-believers.
Movie Info
Set in the early 1960s, this comedy centers on a teen-age boy who befriends a charismatic, humorously overblown movie producer specializing in gimmick-filled horror films. Preparations for the premiere of the producer's latest opus alternate with the escalation of the Cuban Missile Crisis, culminating in unexpected chaos.
News & Interviews for Matinee
Critic Reviews for Matinee
Audience Reviews for Matinee
½
A feel-good, have-fun, don't-take-it-too-seriously, William-Castle kind of movie.
Randy Tippy
Super Reviewer
Cast: John Goodman, Cathy Moriarty, Kellie Martin, Simon Fenton, Omri Katz, Lisa Jakub, Jesse Lee Soffer, Lucinda Jenney, James Villemaire, Robert Picardo, Jesse White, Dick Miller, John Sayles, David Clennon, Lucy Butler, Naomi Watts, Joey Fatone Director: Joe Dante Summary: Aging movie producer Lawrence Woolsey (John Goodman) screens his latest schlock-licious B-movie -- filled with atomic blasts and human mutation -- and gets the attention of teen horror-flick buff Gene Loomis (Simon Fenton), all while the Cuban Missile Crisis intensifies. My Thoughts: "John Goodman is great as Lawrence Woolsey. I liked how there was a film inside the film. Really takes you back to the good old monster flicks when there was always some giant insect dooming you. The film really gives you an insight on what a big production films use to be in the early 60's. Wish it was still such a big deal, maybe more people would take themselves to the theater instead downloading them or streaming them for free on numerous sites. Kind of makes me wanna be part of that era where a scare was so easy to give. In our day it's hard to be scared by anything in any film made. In the end, it's was a charming movie that I am sure the whole family will enjoy."
♥˩ƳИИ ƜѲѲƉƧ♥
Super Reviewer
Joe Dante was one of my favorite directors from the 80's (he's director of films such as Piranha (1978), The Howling (1981), Gremlins (1984), The 'burbs (1989), Gremlins 2: The New Batch (1990)) He's also the director of Matinee. PLOT: "Key West, Florida, 1962. Gene Loomis is a teenager whose family has recently arrived at the military base. He is a big horror movie fan and becomes excited when he hears that movie producer Lawrence Woolsey, a master of gimmicky showmanship, is going to be appearing at a local cinema in person to promote a sneak preview of his new film "Mant". At the same time, the Cuban Missile Crisis begins. Woolsey takes Gene under his wing and this becomes an opportunity for Gene and his friend Stan to take the girls they are keen on to the preview. But when things at the screening are beset by disaster, the audience thinks that nuclear war has broken out."
It's an amazing coming of age tale that's a mixture of comedy, sci-fi, and horror (sci-fi/and horror only because it's the center of conversation. It's never a prime subject set into threatening motion.) It's kind of like "The Monster Squad" meets "Stephen King's It", but without the monsters or the clown, that plus the famous 1988 television series "The Wonder Years". Put those all together and you get Matinee. If that doesn't sound like a fun movie then I don't know what does. It's full with amazing performances from the whole young cast, the script is quick-witted and clever (and very funny), the set design is flawlessly constructed (convincingly bringing 1962 to light, almost putting you in the foreground), and the cinematography is that of a 50's martian movie (perhaps Plan 9 from Outer Space) but with the colors of Tim Burton's "Mars Attacks". Matinee makes you wish you could travel back in time to 1962, and share all the spooky fun with each and every character. It's one of those great feel-good-films that'll put you in a good mood no matter what state of mind you're in. Matinee's a movie for the grownups who like to reminisce about their childhood, and a movie for the younger ones as an inspiration. It's simply a movie for everybody. Matinee was one of my favorite movies from the early 90's, and still makes my top 50 of all time favorite movies. Joe Dante "was" a genius (he was the second Spielberg and Zemeckis of his time). I don't know or understand how and where he went wrong because he was such a great director, but after this film he did a downward spiral. Gladly he had it in him soon enough to give us films like The Howling, Gremlins, Explorers, The 'burbs, Matinee, and now we can thank him for the upcoming 3D remake of Piranha, directed by "splat pack" member Alexandre Aja (director of the ultra-violent High Tension, The Hills Have Eyes remake, and Mirrors.) I wish Joe Dante would come back and deliever once more...at least one more time. But hey, sh*t happens. Matinee is a remarkable film. The DVD was just re-released (a few months ago) after a long and tedious waiting period (for over 5 years), but the wait is over. You can order the DVD now. I highly recommend this film for everybody. See it now!
jd cryptic
Super Reviewer
Matinee Quotes
There are no approved quotes yet for this movie.