The Matrix
(1999)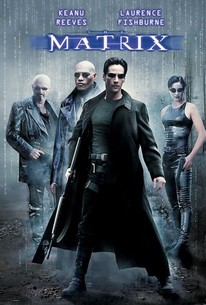 TOMATOMETER
AUDIENCE SCORE
Critic Consensus: Thanks to the Wachowskis' imaginative vision, The Matrix is a smartly crafted combination of spectacular action and groundbreaking special effects.
Movie Info
What if virtual reality wasn't just for fun, but was being used to imprison you? That's the dilemma that faces mild-mannered computer jockey Thomas Anderson (Keanu Reeves) in The Matrix. It's the year 1999, and Anderson (hacker alias: Neo) works in a cubicle, manning a computer and doing a little hacking on the side. It's through this latter activity that Thomas makes the acquaintance of Morpheus (Laurence Fishburne), who has some interesting news for Mr. Anderson -- none of what's going on around him is real. The year is actually closer to 2199, and it seems Thomas, like most people, is a victim of The Matrix, a massive artificial intelligence system that has tapped into people's minds and created the illusion of a real world, while using their brains and bodies for energy, tossing them away like spent batteries when they're through. Morpheus, however, is convinced Neo is "The One" who can crack open The Matrix and bring his people to both physical and psychological freedom. The Matrix is the second feature film from the sibling writer/director team of Andy Wachowski and Larry Wachowski, who made an impressive debut with the stylish erotic crime thriller Bound. ~ Mark Deming, Rovi
News & Interviews for The Matrix
Critic Reviews for The Matrix
Audience Reviews for The Matrix
½
A mind-blowing modern classic that feeds the mind with thought-provoking philosophical ideas about what reality is, and it will always be remembered as a major breakthrough in Cinema with its combination of innovative visual effects, thrilling action and iconic religious references.
Carlos Magalhães
Super Reviewer
By far my favourite of the matrix trilogy. Its fast paced, action packed and really interesting to watch. Its a great concept and an interesting storyline that i thoroughly enjoyed. its a great sci-fi thats worth the watch.
Film Crazy
Super Reviewer
½
saw one of cinema's greatest achievements, 'Plan 9 from Outer Space'. Widely regarded as the worst film of all time, it featured a plot unrivalled in absurdity. Then came 'The Matrix'. Apparently robots (or space zombies, or some variety of scary CGI monsters) have enslaved humanity, and are harvesting them for energy. To keep their living batteries entertained the robo-zombies (or space alligators, it doesn't really matter) have created a giant computer game called 'the Matrix'. With a devil-may-care disregard for the first law of thermodynamics, this game runs on the energy of the people it simulates. But some of these people break out of the computer game and live in a rusty metal bucket and eat gruel. Being heroes, they plan to overthrow their demon-squid robot overlords and free humanity, so they can all live in rusty metal buckets and eat gruel. There are some philosophical pretensions and religious references in there, but these are too simplistic and crass to be worth going any deeper into. Keanu Reeves gives a very believable performance of bad acting, while the rest of the cast mince around in sunglasses and trench-coats, delivering dialogue which serves no other purpose than carrying the plot. The first fifteen minutes of this film are quite watchable, which is why I am giving it a generous 1 1/2 stars 10-04-01 (Updated)
Bruce Bruce
Super Reviewer
The Matrix Quotes
| | |
| --- | --- |
| Neo: | We need guns. Lots of guns. |
| | |
| --- | --- |
| Neo: | I know you're out there. I can feel you now. I know that you're afraid... you're afraid of us. You're afraid of change. I don't know the future. I didn't come here to tell you how this is going to end. I came here to tell you how it's going to begin. I'm going to hang up this phone, and then I'm going to show these people what you don't want them to see. I'm going to show them a world without you. A world without rules and controls, without borders or boundaries. A world where anything is possible. Where we go from there is a choice I leave to you.. |
| | |
| --- | --- |
| Switch: | Listen to me, Coppertop. We don't have time for 20 Questions. |