Maudie
(2017)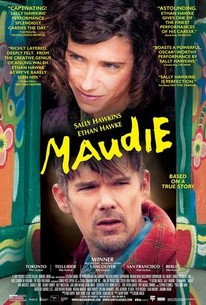 TOMATOMETER
AUDIENCE SCORE
Critic Consensus: Maudie's talented cast -- particularly Sally Hawkins in the title role -- breathe much-needed depth into a story that only skims the surface of a fascinating life and talent.
Movie Info
MAUDIE, based on a true story, is an unlikely romance in which the reclusive Everett Lewis (Ethan Hawke) hires a fragile yet determined woman named Maudie (Sally Hawkins) to be his housekeeper. Maudie, bright-eyed but hunched with crippled hands, yearns to be independent, to live away from her protective family and she also yearns, passionately, to create art. Unexpectedly, Everett finds himself falling in love. MAUDIE charts Everett's efforts to protect himself from being hurt, Maudie's deep and abiding love for this difficult man and her surprising rise to fame as a folk painter.
Critic Reviews for Maudie
Audience Reviews for Maudie
Sally Hawkins and Ethan hawke do very well here as marginalized fringe personalities, given the short shrift so often in life and society that they fully expect it as the natural course and are little surprised in their positions, who discover an uneasy grace with one another. How they navigate their lives and emotions I found to be satisfying moviemaking.
Kevin M. Williams
Super Reviewer
½
A simple and affecting biopic that could have been easily made forgettable but instead benefits immensely from Sally Hawkins and Ethan Hawke's fantastic performances - especially the former, who offers us a character that brings us to tears with her sensibility and sweetness.
Carlos Magalhães
Super Reviewer
½
Finally, the biopic of obscure Canadian folk artist Maud Lewis that we've all been clamoring for has arrived. What's that? You've never heard of her much less even care why there's a movie about her? Obviously, since Guillermo del Toro's upcoming film The Shape of Water is going to secure Sally Hawkins with a best actress Oscar nomination, there has to be a primer film where she also plays a small disabled woman with a romantic attraction to fish so that when she wins people like me can say, "I knew she would. She was great in The Shape of Water, but she was also in a little indie film earlier this year called Maudie, and it was just lovely." Well, I'm gonna get ahead of myself and say it: Maudie is just lovely - a quiet little film to cuddle with your cat to. The performances from Hawkins and Ethan Hawke are interesting, although I had a hard time imagining Hawke's real life fishmongering counterpart being such an abusive sperg to an arthritic little lady who just likes to paint flowers and other rustic miscellany. And Hawkins is as adorable as a puppy who got booped on the nose. At its heart, the film is a meditation on finding joy in the coldest of corners and an escape from the mundane through expressivity. Set in a beautifully bleak Nova Scotia, Maudie proves that creativity trumps small town mindedness every day. The storekeeper in the film sneers "My five year old could do better [paintings]." Well, mister, your five year old probably isn't the subject of a limited release biopic, is he?
K Nife Churchkey
Super Reviewer
Maudie Quotes
There are no approved quotes yet for this movie.