Maurice Richard (The Rocket)
(2007)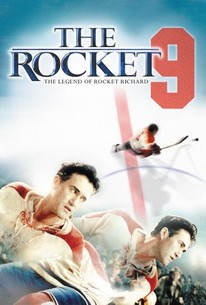 Maurice Richard (The Rocket) Photos
Movie Info
This bio-drama centers around Quebec's most famous hockey player, Maurice "The Rocket" Richard, and focuses on the famous 1955 riot in the Forum.
Critic Reviews for Maurice Richard (The Rocket)
Audience Reviews for Maurice Richard (The Rocket)
A spiritual high-octane adrenaline fueled jump up and cheer classic sports film that (in my opinion) is a modern classic. Maurice is an astonishing hockey player in canadian history, and to have a movie made this well on a gifted player is an honour for our country. For an independant film, it sure the delivers and never disapoints throughout!
½
[font=Century Gothic]"The Rocket" is thankfully not a biopic about Roger Clemens.(Sorry, Mets fan.) Rather, it is about Maurice "The Rocket" Richard(Roy Dupuis), a legendary hockey player who skated for the Montreal Canadiens during the 40's and 50's when they won numerous Stanley Cups. Coming from humble origins, he had to work as a machinist to support his family while in his teens when he was also playing for a junior league team. At his first training camp, it was doubtful that he could skate much less play at a professional level due to a broken ankle and wrist that kept him out of the armed forces during World War II. But head coach Dick Irvin(Stephen McHattie) saw a toughness in the young player and knew he would succeed...[/font] [font=Century Gothic][/font] [font=Century Gothic]"The Rocket" is a compelling biopic that perfectly captures a bygone era when players had to be tougher to compete in the NHL.(This goes beyond the obvious lack of helmets.) According to the movie, Richard was particularly singled out because of his Frenchness but would start to attack this later in his career, becoming a focus for French Canadian nationalism. While I know we are meant to root for Richard in his struggles, it is also very hard to cheer against my beloved New York Rangers(yeah, yeah. I know. It is only a movie.), especially with ex-Ranger Sean Avery typecast as a bruiser. Maybe one day, he'll get a chance to play a romantic lead...[/font]
½
still trying to watch this one in its entirety ( thanx for thats kids) but what i have seen is a brilliant portrayal of what was an amazing hockey player in a time where hockey players playerd at night and had a day job during the day just to make all ends meet. I think all the present nhl players should watch this and see how it is to play for the game and not for a million dollar paycheck.
Maurice Richard (The Rocket) Quotes
There are no approved quotes yet for this movie.