Maverick
(1994)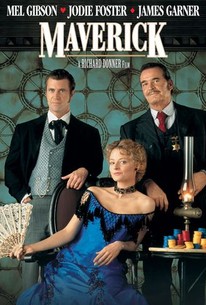 Movie Info
This witty western follows the exploits of card sharp Brett Maverick. Needing to raise enough cash to enter a major poker tournament, Maverick enters a small-town card game and finds himself in trouble when he walks away with the pot, a woman's heart, and a man's anger.
News & Interviews for Maverick
Critic Reviews for Maverick
Audience Reviews for Maverick
½
I love this flick. It's great seeing Richard Donner tackle a western. Even moreso with Mel Gibson, Jodie Foster, James Garner, Alfred Molina, James Coburn, Graham Green and many, many great character actors taking up the cast. There are some slight dragging points in the middle of the film, but overall it's a fun little movie. It doesn't really have any sort of visual style, but it's definitely stylized to good effect. It's basically a comedy with a nice western backdrop. It's also a remake of the television series with lots of liberties taken, but if you haven't seen the show it doesn't matter. It's great on its own.
Tim Salmons
Super Reviewer
½
We are all in the middle of a poker game and its obvious that everyone is bluffing, but I couldn't have told you what the winning hand was going to be. This movie was filled with coincidences too over-the-top that just happened to develop the plot precisely as needed, but I give an extra star for the set and costume designs.
Matthew Slaven
Super Reviewer
Maverick is a wonderful comedy Western film based on the popular tv show. Starring Mel Gibson, Jodie Foster and James Garner, Maverick is a well acted, plotted and directed Comedy with style. A con man brings his tricks to a high stakes poker game. Along the way, Maverick will find himself in hot water as he tries to outrun unhappy losers, and gets involved in plenty of gun fights. Things go out of hand when the law gets involved. Maverick is a hilarious Western film. The film may not be as grand as the old epics of the 1960's, but this film is a totally different type of Western. The fact that it's different, makes it that much more interesting and fun. The jokes are great and the humour is sharp. The film is always entertaining despite its flaws. Directed by Richard Donner, Maverick combines elements of action, and comedy into this creative Western comedy. The film may be strained at times, and you see that theres room for improvement, but for the most part, the film succeeds in providing the feel of the time. Mixed with witty humour, the film is a superb comedy with a great cast. Mel Gibson and Jodie Foster give strong perforamces. Maverick is one memorable addition to the Western genre. The film may not be as comical as My Name is Nobody, but it's still a funny ride, one that Western fans will surely love. A good viewing experience for sure.