Max
(2002)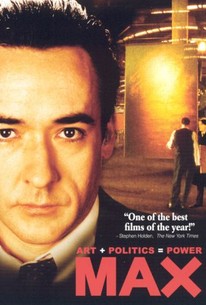 Movie Info
In the wake of his rise to power, Adolf Hitler became known as perhaps the most villainous and destructive political leader of the 20th century. But what was he like before he formed the Nazi party? Screenwriter and director Menno Meyjes explores that question in this drama, a work of fiction keyed to the fact that Hitler unsuccessfully pursued a career as an artist following World War I. In 1918, Max Rothman (John Cusack) is a former artist who lost an arm during the war. While Max can no longer create, his eye for talent is as keen as ever, so he has become a successful art dealer, specializing in Modernists such as George Grosz. Max's success has brought him a fine home and a beautiful wife, Nina (Molly Parker); he's also acquired a mistress, Liselore (Leelee Sobieski), a lovely young woman with artistic aspirations of her own. One day, Max meets Adolf Hitler (Noah Taylor), an emotionally intense, fellow war veteran who has found himself penniless in Munich. Adolf fancies himself an artist, and while Max isn't especially impressed with his technique, he sees in him a burning passion and a desire to communicate, so he encourages Adolf to express his demons through his art. While Adolf takes Max's advice to heart and strikes up a friendship with him, Max's friends find Adolf's open advocation of anti-Semitism rather troubling; Max, who is Jewish, simply chalks Adolf's attitudes up to unpleasant wartime experiences. But as Adolf immerses himself more deeply into his political interests and his thoughts on social engineering, he begins to leave painting behind in favor of a more interesting art form, the political arena. Max marked the first directorial effort of noted screenwriter Meyjes.
Audience Reviews for Max
½
Cusack plays a Jewish art dealer who takes a young artist under his wing, by the name of Adolf Hitler. A compelling watch.
Marcus Woolcott
Super Reviewer
An art critic attempts to encourage a disturbing young man's art and dissuade him from pursuing political aspirations ... oh, and the young man is Hitler. A colleague recommended I see this film because, in his words, "People criticized it for humanizing Hitler, but I thought that was one of its strengths." His point is that we so often dichotomize, see historical and political differences in clear terms of good and evil: the bad guys have the red light sabers and the good guys have the blue or green ones. His point, and I would argue the film's point, is that human beings, even the most depraved ones, are motivated by a myriad of influences, and dichotomies, by definition, are reductive. The film presents Hitler in no gentle terms. He never smiles, but when you glimpse his teeth, they are nothing to behold, gray and misshapen. He screams a lot. He's remarkably insecure. The roots of his antisemitism are presented in no uncertain terms. He makes everyone around him uneasy. In the end, I would argue that the film didn't humanize him enough because the character, aside from his insecurity, is just as unlikable and impossible to identify with as you would expect. I'm not proposing that Hitler be portrayed in positive terms, quite the opposite. What I'm writing is this: here is a man who rose to power because something he said connected with people; he also was married. A humanizing portrait of him would get to the root of what his supporters saw in him even as we can whole-heartedly reject his ideology. But it's a noble, risky, and controversial proposition to begin with, and I think it's admirable for Max to attempt to make us see the world in less myopic terms. John Cusack is great as the Jewish art critic who attempts to take Hitler under his wing. The direction by Menno Meyjes is also quite strong, able to convey character and story in some single, beautifully framed shots. Overall, Max is not a great film, but it's an interesting conversation-starter; questions like "Is our historical understanding narrow?" or "Is this film's attempt immoral/unethical?" are worth asking.
Jim Hunter
Super Reviewer
Interesting but not great story about how Adolf Hitler's failed art career may have intercected with, and possibly actually inspired, his political career. This film is in the style of Gods and Monsters, whereby a actual historiical figure's life is placed into a fictional setting as a means of trying to discover "what happened." John Cusack plays a fictional Jewish art dealer named Max Rothman who meets a 30-year old Hitler (Noah Taylor) in 1918, right after The Great War. Rothman is aware of Hitler's Anti-Semitism, but sees it as a source of artist inspiration rather than a actual threat. Rothman tries to convince Hitler to channel his rage into his paintings. In the process, the young Hitler discovers his true calling. Cusack, who I normally adore, got good reviews for his potrayal here, but I just couldn't take him seriously as this haughty, somewhat pretentious art dealer. I guess I'm too used to him as Mr. Everyman. I guess the subplot of Rothman's love triangle between himself, his wife and his mistress fit in somewhere, but I found it unnecessary. Noah Taylor, while pulling off the passion of Hitler OK, seemed more to me as a Sid Vicious "sex, drugs and rock n roll" type rather than future leader of the Fatherland. On the good side, the film looks great. The set design and costumes were excellent and believable, especially the abandoned train station where Rothman had his art gallery. And the edited-together scenes of Hitler giving a rabid speech about Jew and "pure blood" with Rothman and his family during a Jewish religious service were interesting. The first few minutes of this film set up a mood for me that made me anticipate more than the film ultimately delivered. I may give Max another chance one day to see if I feel differently, but for now it's "good try but no cigar."
Max Quotes
| | |
| --- | --- |
| Adolf Hitler: | Politics is the new art. |
| | |
| --- | --- |
| Max Rothman: | Words are magic. Sometimes I think the whole world is strung together by words. |
| | |
| --- | --- |
| Max Rothman: | There's no future in the future. |