Max Keeble's Big Move
(2001)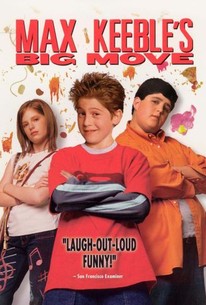 Max Keeble's Big Move Photos
Movie Info
After having been outmatched in the live-action family film department by rival Nickelodeon in recent years, Disney jumps back into the kid-friendly fray with this comedy about a seventh grader (Alex D. Linz) who's mercilessly picked on by his school's bullies and by his principal (Larry Miller). When his parents (Nora Dunn and Robert Carradine) inform Max that they're moving at the end of the week, he takes the opportunity to exact several forms of creative revenge on his many tormenters. When it subsequently turns out that the Keebles aren't leaving town after all, little Max is left to the mercy of those he's just humiliated. Max Keeble's Big Move is the second feature film from Tim Hill, the nephew of famed director George Roy Hill (The Sting).
Critic Reviews for Max Keeble's Big Move
Audience Reviews for Max Keeble's Big Move
Max Keeble: We're moving?! There is nothing special or memorable about 'Max Keeble's Big Move', except maybe a few light-hearted moments and a few funny jokes, but that's about it. This will most likely please kids between 5-10, but if your older, stay far away. The acting is a joke, and that's probably the nicest thing I can say about this movie. The lead Alex D. Linz, is a very annoying actor, whose lack of talent makes his character unbearable. Larry Miller is the only redeeming aspect of the film, but his performance is a low-brow. As if this couldn't get ridiculous enough, they casted Jamie Kennedy in this reck, who is another failed actor. Ultimately, this will please the younglings, but adults will not be pleased. Not recommended. Read more reviews at www.creedsdelight.com
Matt Goodman
Super Reviewer
Why does Disney punish themselves by making so many live actions? I'll admit I like Haunted Mansion, but there weren't many other good Disney live action films. Country Bears? No. Shaggy Dog remake? No. Bedtime Stories? No. The Gameplan. NO! High School Musical? NONONONONO!!!! But it seems this may be the movie that started the whole trend, and considering how bad it was, way to start it off. The only good thing I can really say about it is it has Josh Peck. However, even Josh Peck had a pretty bad performance. In addition, it was pretty weird to have him have that high voice. It was like someone shoved a trumpet down his throat and recorded his voice in autotune, WHILE he was being beat up by Mike Tyson. Not to mention he tries way too hard to be funny. The other actors didn't do much better. There wasn't a single actor who did a good job, and Larry Miller's performance as the Principal was way over done. Why didn't they just hire Profion from the DnD movie to do it? Alex D. Linz obviously didn't memorize his lines, because he seemed to be stuttering ALL the time. Not impressed. The plot was pretty uncreative and unbelievably predictable. Kid's parents are moving, so he does a bunch of bad stuff because he will be gone before finding out that there not moving, but not after abandoning his friends and angering school bullies. How suspensful! But there's one thing that seperates this crappy live action disney movie from every other. There's an evil ice cream man!! Wait, what? An evil ice cream man? There was literally NO reason to have an evil ice cream man in this movie! NO REASON!!!! Maybe if the kids had been older, the humor more adult, a better cast, and the company not being Disney, it would have been a better movie. Sadly, things didn't go our way.
Marc Lewis
Super Reviewer
For sure a movie for kids. Does show you that you shouldn't burn bridges though.
Leigh Ryan
Super Reviewer
Max Keeble's Big Move Quotes
| | |
| --- | --- |
| Principal Jindraike: | [About to be chased by the animals from the shelter] Uh-oh. AAAAAAAAHHHHH! |
| Principal Jindraike: | [about to be chased by the animals from the shelter] Uh-oh. AAAAAAAAHHHHH! |
| | |
| --- | --- |
| Principal Jindraike: | [Repeated line] Cease! |
| Principal Jindraike: | [repeated line] Cease! |
| | |
| --- | --- |
| Principal Jindraike: | Your Kung Fu's no good here, Max. |
| | |
| --- | --- |
| Evil Ice Cream Man: | I want my coil. |
| Dobbs: | I want my handheld! |
| Evil Ice Cream Man: | What'd you say, punk? |