Max Manus: Man of War
(2010)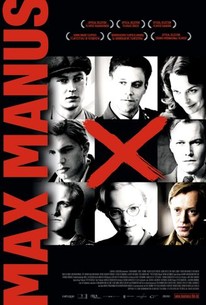 Max Manus: Man of War Photos
Movie Info
The Norwegian historical crusader Max Manus -- who lived from 1914 to 1996 -- retains household name status among Scandinavians for his acts of daunting courage during the Second World War, but curiously, few non-historians outside of Northern Europe have heard of him. This adventure epic from co-directors Joachim Roenning and Espen Sandberg (Bandidas) represents the first mainstream effort to dramatize Manus' efforts in feature form with elaborate re-creations of his heroic exploits. The bulk of the action spans April 9, 1940 through May 8, 1945, or the period of Nazi Germany's Norwegian occupation. Despite an almost complete lack of formal education, Max (Aksel Hennie) grows completely outraged when Norway falls to Germany and permits the presence of an occupying puppet government within two months. In response, Manus bands together with some other indignant Norwegians and promptly forms a resistance outfit known as the "Rognes Organization" -- a group dedicated to collecting weapons, disseminating anti-Nazi propaganda, and exuding a fighting spirit. Later, when Manus is captured by the Germans, he makes not one but two astonishing escapes from the clutches of the Nazis, with his life intact -- demonstrating, hands-down, that he has no fear. Following a period of saboteur training in Scotland, Manus -- incredibly -- slips right back into Norway, and commandeers a mission to sink Nazi supply ships in an Oslo harbor nighttime raid; though successful, it draws nasty acts of vengeance from a psychopathic Gestapo leader Sigfried Fehmer (Ken Duken) -- an event that turns Sigfried and Max into arch enemies with the bitterest hatred for one another. Manus' heroic efforts for the liberation of Norway continue undaunted, however. Thomas Nordseth-Tiller authored the screenplay, reportedly taking a slight degree of liberty with historical facts. ~ Nathan Southern, Rovi
News & Interviews for Max Manus: Man of War
Critic Reviews for Max Manus: Man of War
Audience Reviews for Max Manus: Man of War
Best war movie i've seen in ages!
Brian De Guelle
Super Reviewer
Excellent movie about flawed, courageous people fighting oppression. Based on actual events in history. This film depicts the courage, and sacrifices, of those who fought against the tyranny of the Nazis. It is fitting to have a 21st century production telling the story of this band of brave Norwegian fighters. Not only does it honor them, but it helps keep this important period of history alive for the a new generation. Very well done..
Cynthia S.
Super Reviewer
Max Manus is a flawless portrait of one of Norway's greatest heroes in a time of need. Max Manus tells the story of Max Manus, a Norwegian Saboteur during the Second World War. In this film we get a look at the dangers and risks that Manus and his men had to undergo to fight the Germans. The film is exciting and thrilling. One thing I admire of Foreign war films is how authentic the films are. The films are probably 97% accurate while Hollywood war films are about 50% accurate and the filmmakers take creative liberties to make it look interesting. With this film, you get the authenticity of the war and when Max and his men commit sabotage missions you feel tense as you are caught up in the story because of how accurate this film really is. A terrific war film that should be viewed by anyone interested in the unsung heroes of the war. Sabotage helped demoralize the Germans and this is the story of one of the most elusive Saboteurs during the German occupation of Norway.
Max Manus: Man of War Quotes
There are no approved quotes yet for this movie.