Maximum Overdrive
(1986)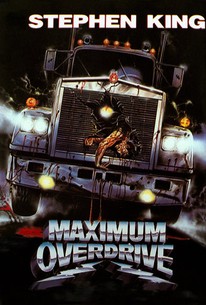 Movie Info
After radiation from a comet showers the earth, inanimate tractor-trailers come to life and terrorize a group of people trapped in a rest stop. The manager (Pat Hingle) and a prisoner on parole (Emilio Estevez) organize the defense of the group and engage a counter-attack.
Critic Reviews for Maximum Overdrive
Audience Reviews for Maximum Overdrive
Fun and funny until it totally isn't, "Maximum Overdrive" is a brutal, gory, and unnecessary film that strives too hard for a shock rather than focussing on a consistent story. It is odd saying that about a film written and directed by Stephen King, but seeing as this is the only film he has ever directed, that is not a surprise in the slightest. He has now found his footing elsewhere, but quite honestly, he had a rocky start to his career with this film. A series of freak occurrences during a Comet affecting the planet, causes trucks and other inanimate objects to "come to life" and terrorize the town and all the people in it. Bonding to stay alive, the majority of the cast locks themselves in a gas station surrounded by trucks circling around them, waiting to pounce. Again, the first 30 minutes of this film are so over-the-top and fun that I was having a blast; However, the film slows right down, confining it to one space with not very much happening, and I found myself pretty bored. In a film with not a very interesting premise to begin with, I was hoping for a lot more shocking moments than what was presented. Overall, it's a fun movie for a bit, but the it stops being that and becomes a borefest. A very forgettable movie.
½
Whilst earth travels through the tail end of a comet trail all the machines in the world go haywire and start to turn violently on their human creators with anything from electric knives to ice-cream vans seeking blood, but it's the big rig trucks that play the lead villains in this film as they trap a group of survivors in a remote truck stop and won't let them leave. Funny, bloody and thrilling for the most part, but I thought things dragged towards the end, it could have done with being 10 minutes shorter. It's enjoyably camp and makes for a good nights viewing, and all with a rocking soundtrack by ACDC. It's similar to the movie 'Tremors' but without the "graboids".
One of my favourite machines gone haywire movies ever! First of all it's directed by King himself, not just written by him! It's got Emilio Estevez, who gives a nice performance, as does the rest of the cast. Plus, an awesome heavy metal soundtrack from ACDC! I highly recommend this movie.
Maximum Overdrive Quotes
| | |
| --- | --- |
| Man At Cashpoint: | Honey, this machine just called me an asshole |
| Man At Cashpoint: | Honey, this machine just called me an asshole. |